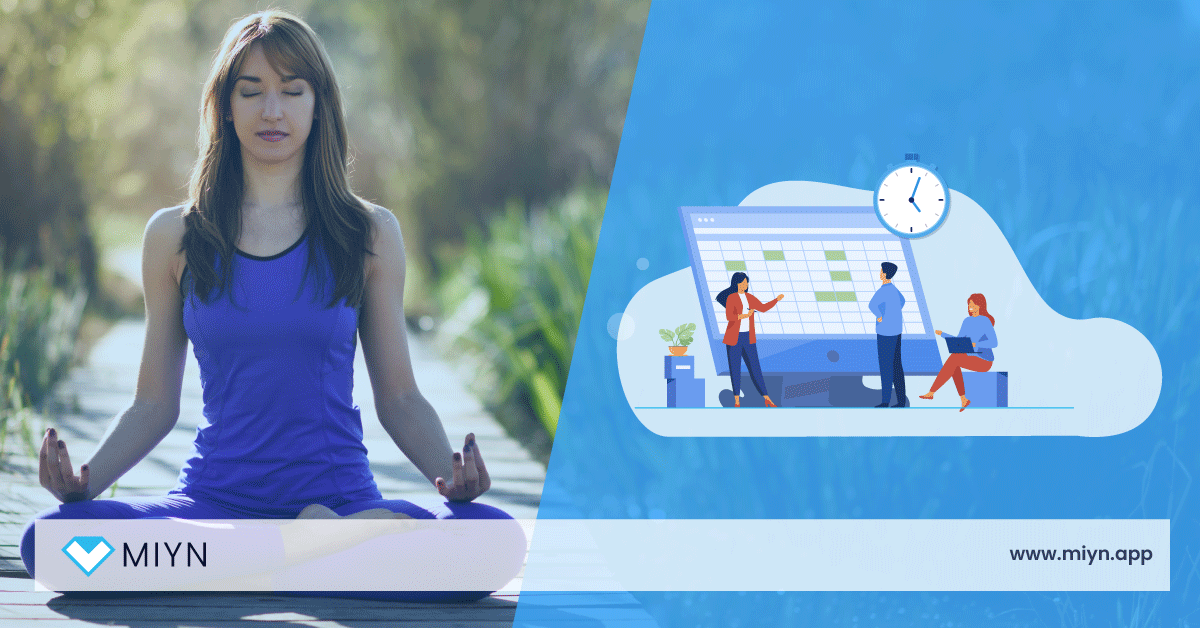 The Top 9 Best Yoga Booking Software for Online Teachers or Studio Owners
Hello! Yoga masters. 
You should know that since the attack of COVID the world is becoming increasingly virtual. Now you have the opportunity to educate more students. As you no longer need large grounds to gather them. You can simply teach them online. 
Another fun fact is that the internet gives you the freedom to teach globally. 
But there is a small problem. How are you going to book the meetings? And how are you going to make the transactions? Luckily there are tons of yoga booking apps that you can use. 
We are going to help you to select the best appointment booking app for your yoga class. We have shortlisted the nine best yoga booking software. You can have a look at their features and choose the one that suits your requirements. 
Now, just read on to explore our yoga booking management software reviews.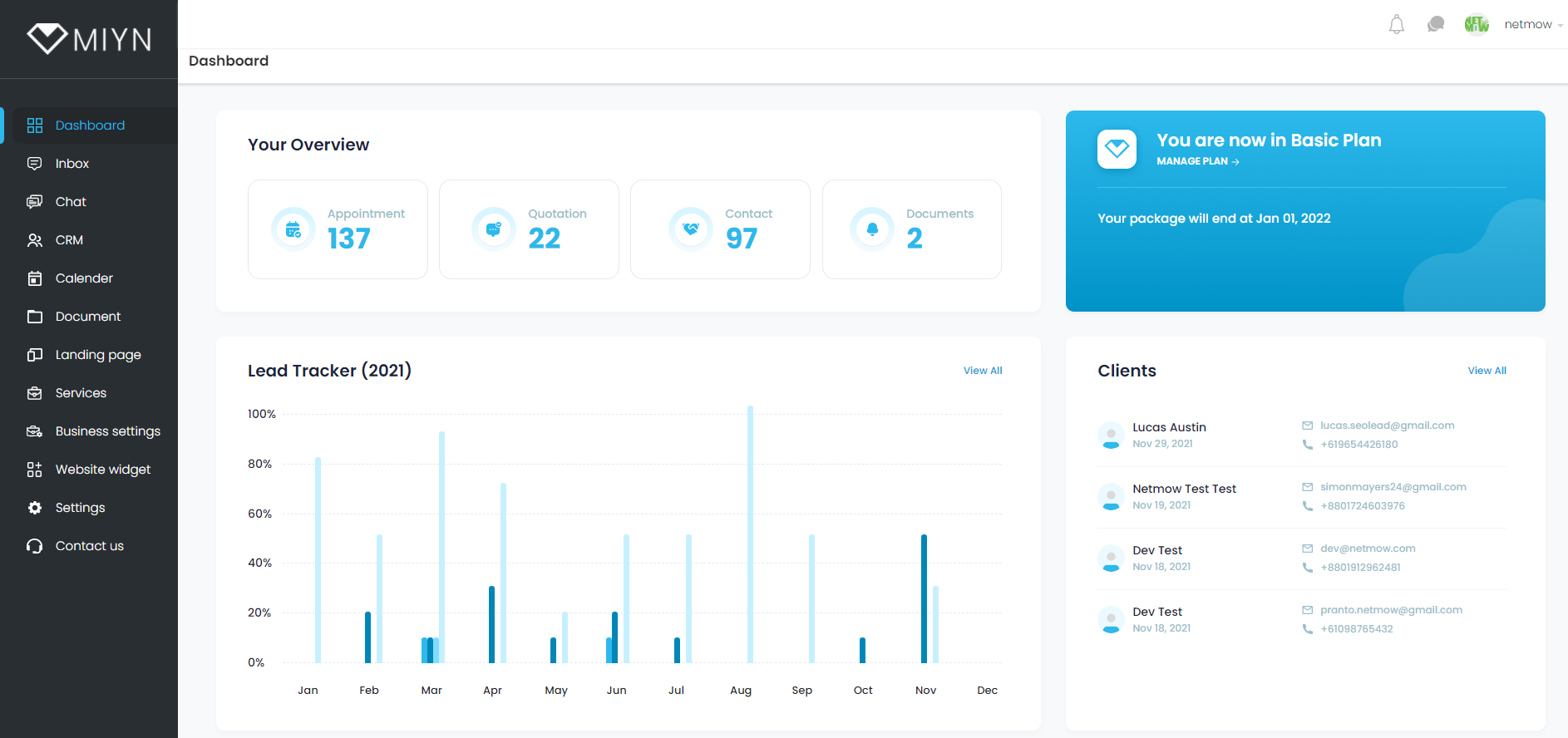 MIYN is the most recommended app for yoga teachers. MIYN is a simple, flexible, and powerful yoga booking app. You don't have any training to understand MIYN. But if you get into trouble, their wonderful support is always ready to help you.   
Through MIYN you can set your availability time, and allow your students to book according to the schedule. This will allow you to select off days of your choice. 
You can integrate it with your website, and allow your students to assemble on one platform. 
Moreover, MIYN has the best customer relationship management feature. And it also has a remarkable live chat feature. 
Do you know that live chat can increase sales up to 84.5%? 
If you don't have live chat on your website you should implement it now. 
Get Started free
MIYN can also help you to find more students through lead generation tools. Hence, through MIYN you can find your audience easily.  
Cost
MIYN offers two plans. Both of them have identical features and support. But before going for the paid plans you can try its one-month free trial. You will not have to provide credit or debit card information to start the free trial. If you like the free then you can buy its paid version 
The monthly price of its two plans is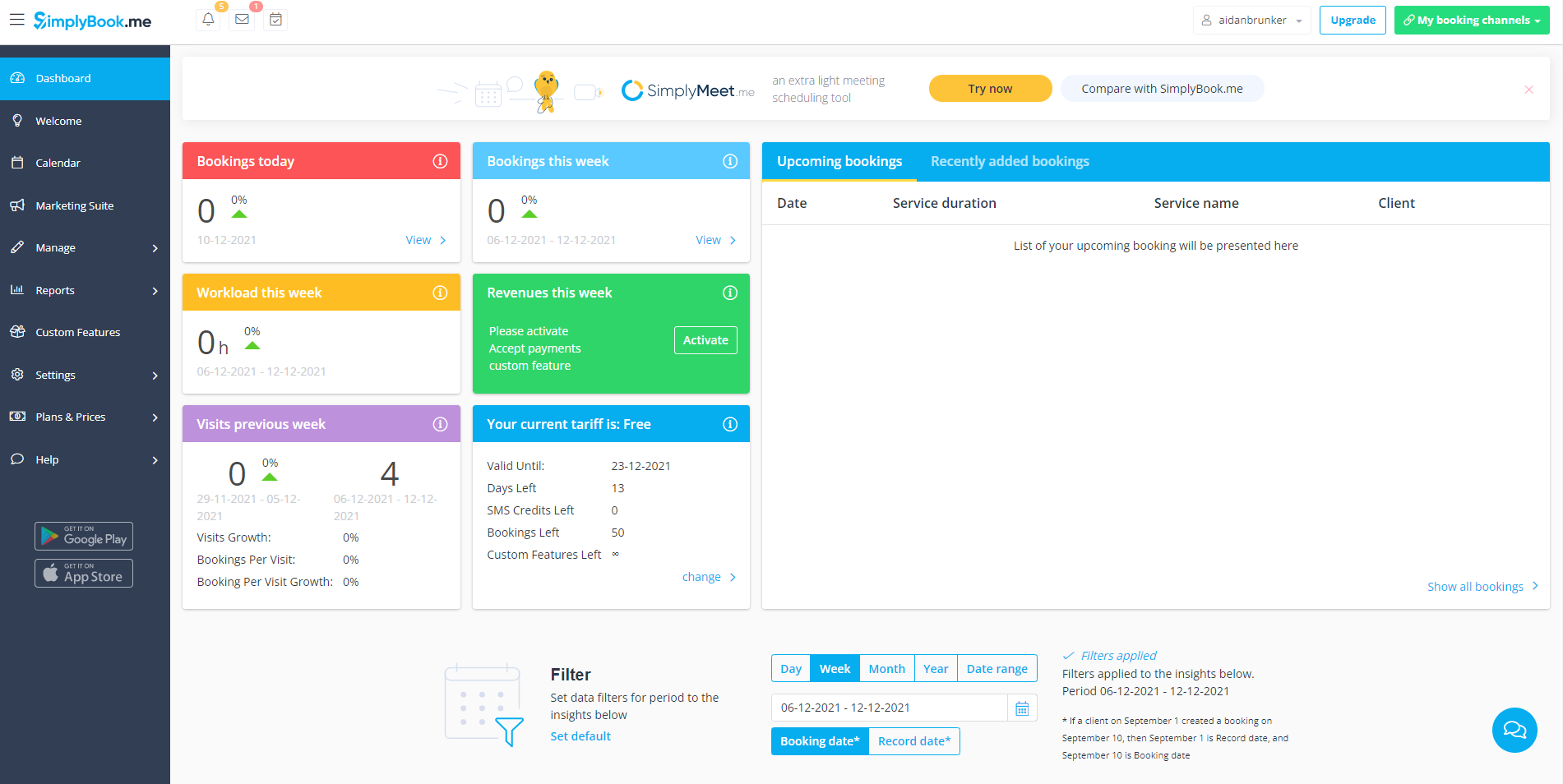 Simplybook.me is an easy-to-use yoga studio app. It has everything that can get your business on track. Your students can easily book appointments and make payments from the same platform. You can also display a scheduler on your website. 
Furthermore, you can track attendance and send reminders to your students. And if you are looking to increase sales you can use coupons. 
If you want to take your business to new heights then you will need to add some paid add ons. But you will have the option either to add them or not. 
It may be a good tool for bookings, nevertheless, it is not good with lead generation. You will need additional tools to find new students. 
Cost 
Simplybook.me has a free plan. However, it includes some basic features. You will have to move to paid plans to make the best use of this tool. 
The price of its three paid plans are 
Basic $9.9 monthly 

Standard $29.9 monthly 

Premium $59.9 monthly 
You can save up to 17% if you are ready to pay annually.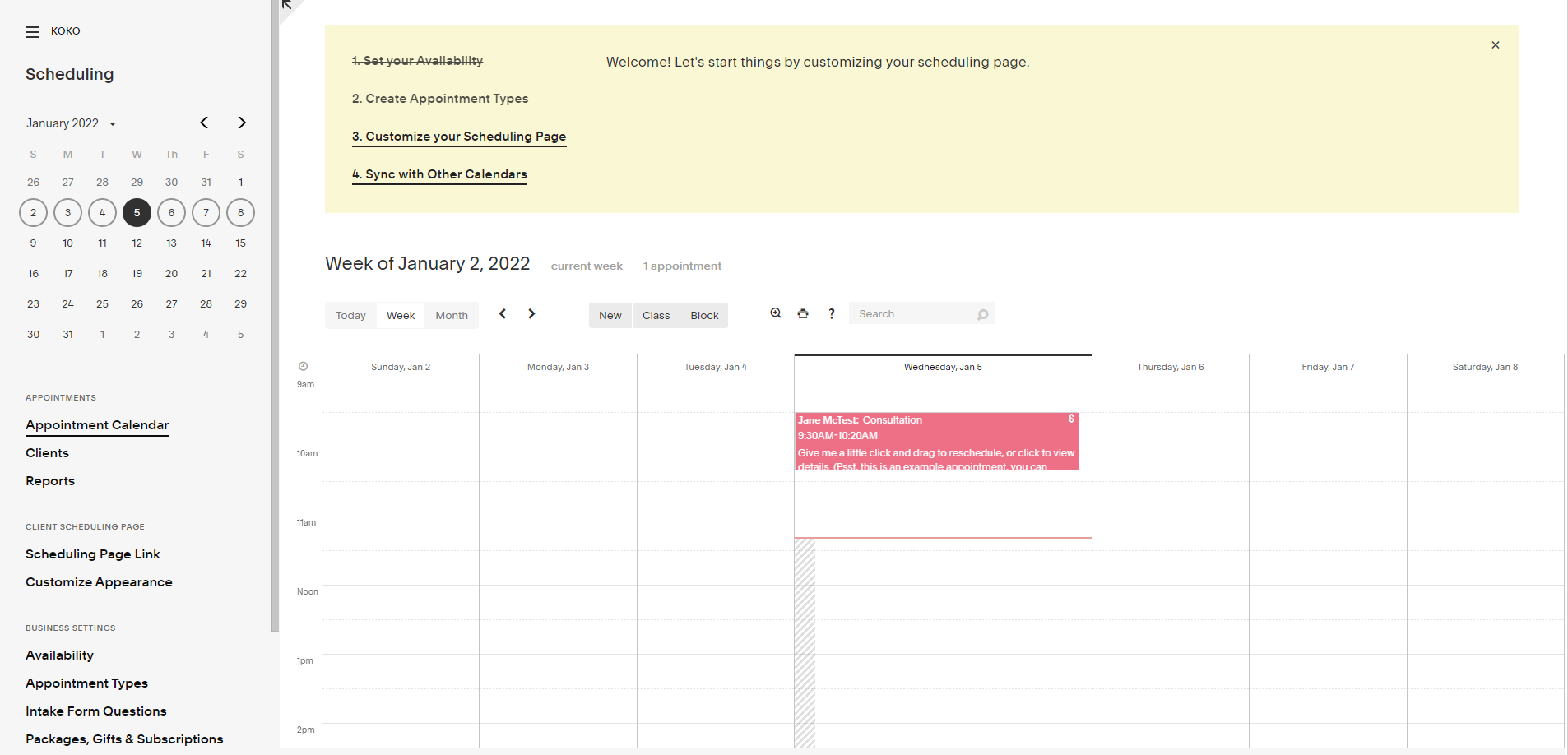 The interface of Acuity scheduling is the most user-friendly. And it has all the features you will need as a yoga teacher. Your students can book meetings and also pay via PayPal, square, or stripe. But these are just the basic features of Acuity scheduling.  
You can integrate it with zoom and Google meet. For better marketing, you can also link it with Mailchimp and other marketing software. And the best part is you can customize the interface according to your choice and need. 
You can also add yoga studio subscription options. But this offer is only available in growing and powerhouse plans.  
Thus it is a complete online scheduling app. It also allows you to add some partners. But their number is limited. 
Another factor is that it is missing CRM and other marketing features. However it allows you to add third-party software to complete those features.  
Cost
It has three plans, all of them are paid. It only provides a 7 day free trial on any of the plans. 
Furthermore, you can use more features by purchasing expensive plans. The starting price of all subscriptions are:
Emerging $15 monthly  

Growing  $25 monthly 

Powerhouse $50 monthly 
You will save 10% by paying annually.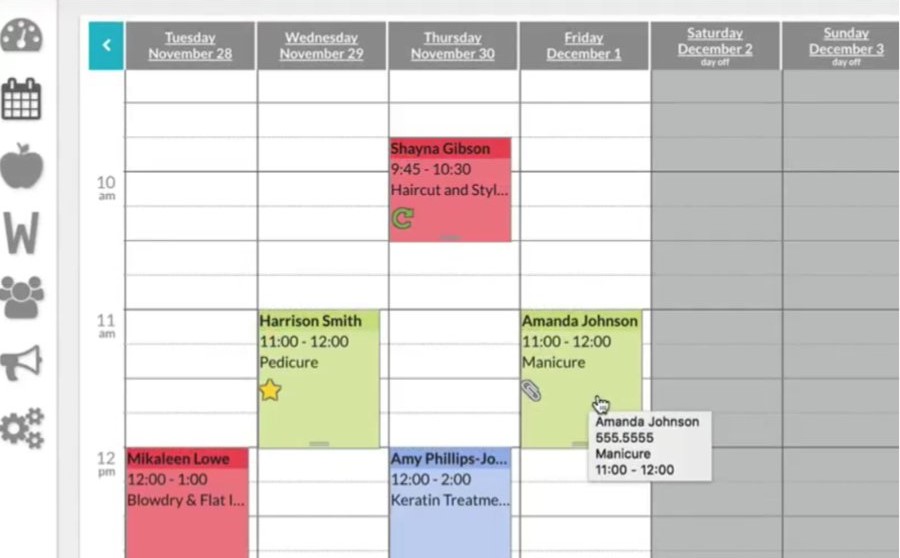 It is another easy-to-use and appointment scheduling software. Schedulicity has all the features that will help you to manage yoga classes. 
Additionally, Schedulicity has useful features for class management. You can easily add and edit class lists, mark attendance, and cancellation of appointments. Here you can also improve future plans by offering waitlists.  
Running a local gym or yoga studio? Teaching a weekly art class? Schedulicity was made for you. With our class management features, the only thing you'll have to worry about is teaching your clients. And manage waivers to start classes on time
You can engage more students by giving them the option of group bookings. It also provides the option for arranging conferences. 
Schedulicity allows you to add more than one user. So, if you are working with more instructors then you can assemble them on one single platform. 
Cost 
It has only two plans. One is free. But it involves only limited features and use. 
The second plan has unlimited features. It costs $34.99 monthly.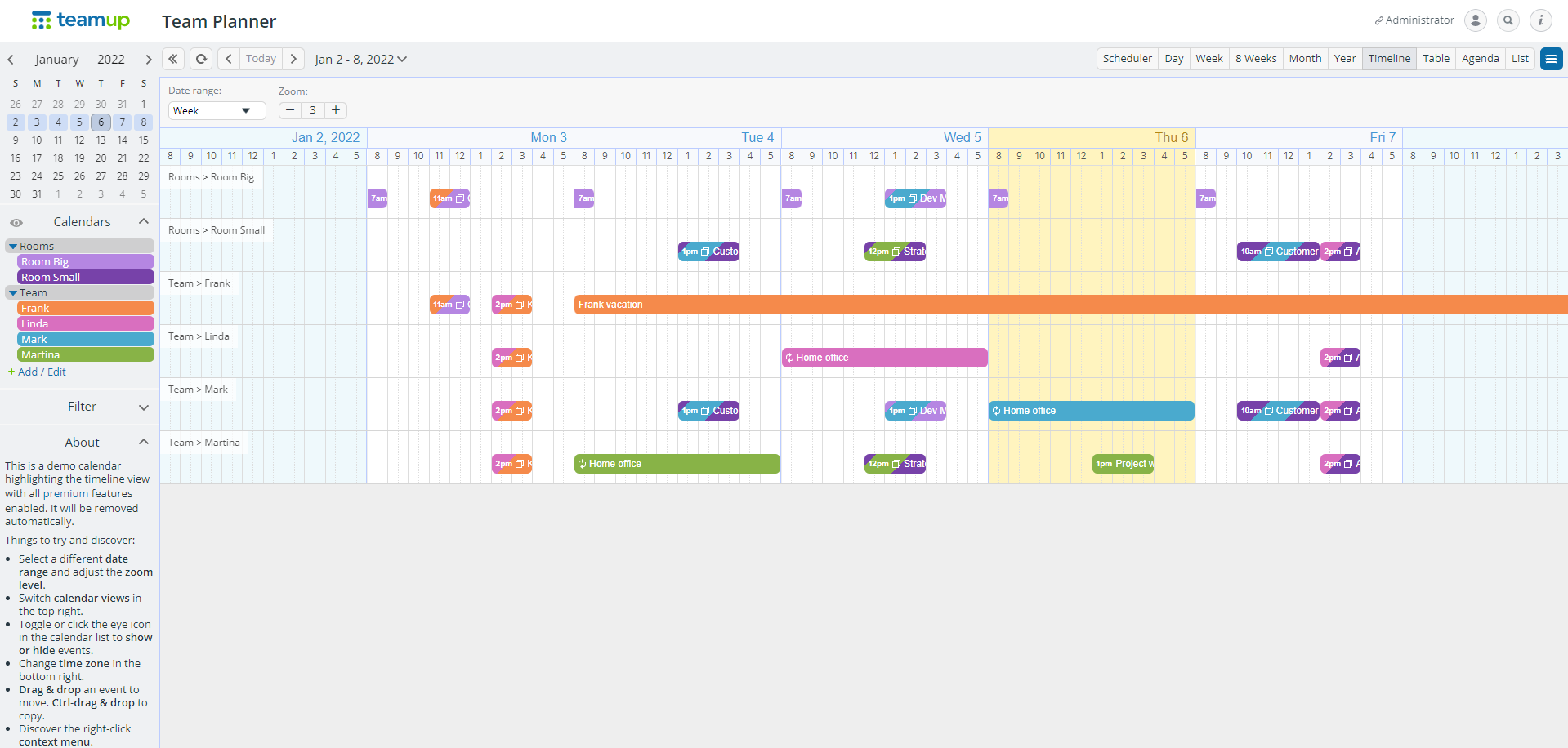 Teamup is a wonderful online schedule maker. It not just book appointments but also helps you to find more yoga students. Teamup helps you to find a targeted audience. Also, you can use current students to find more by offering referral bonuses. 
Moreover, you can set a flexible schedule effortlessly. You can set the days and timings for classes and add one-off or recurring time slots. Teamup makes online booking easier as you can integrate it into your website. And to start the online session you can easily start a zoom session from the same interface. 
You can also adjust pricing, availability, and allotments according to your need. Teamup supports recurring, prepaid, and class plans. This gives the flexibility to your audience to join sessions of their need. 
Since Teamup allows recurring plans, it calculates the recurring membership payments automatically. Also, for attracting a larger audience you can offer discount codes.  
If you are working as a team the Teamup is your ideal option. As you can add an unlimited number of members. 
Cost 
It has a very different pricing scenario. It charges you according to the number of customers you have. 
Its price starts at $59 monthly. Within this amount, you can serve up to 50 customers. 
You will have access to all the features regardless of the fee you are paying.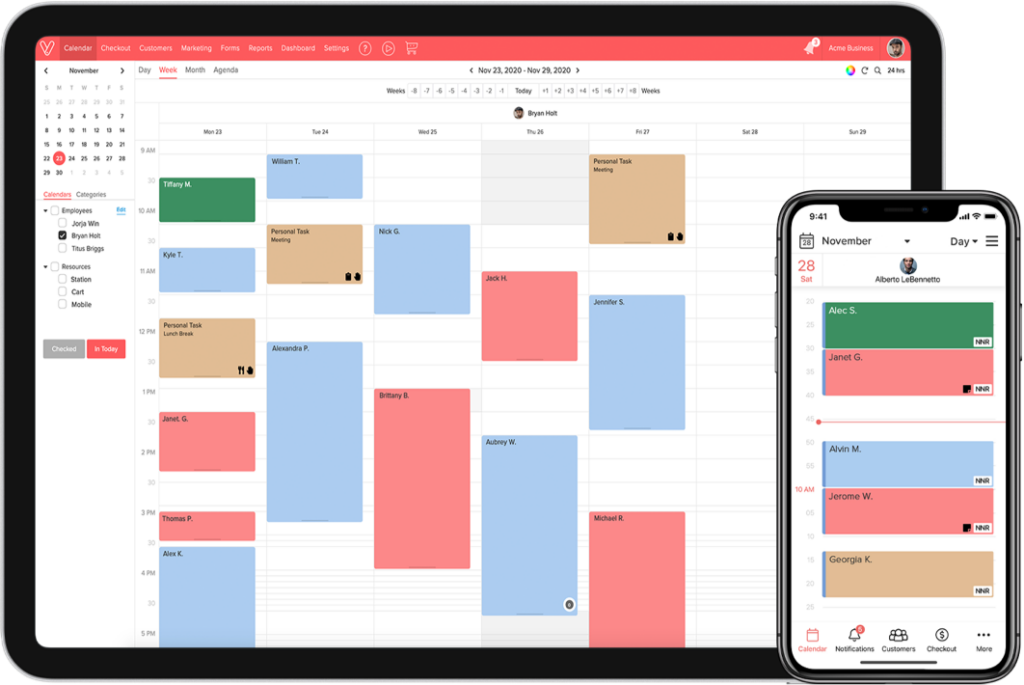 Vagaro is a useful appointment booking app. It has all the necessary features that will make your scheduling easier. 
It allows you to set appointment dates by drag and drop. And it has the option of recurring booking. Moreover, you can also add off dates and manage other resources from one single platform.
Vagaro has a wide range of options for appointment booking. You can merge it with Yelp, Instagram, Facebook, and your website. Thus, you can gather your audience from different resources to one single platform. 
Furthermore, Vagaro keeps you up to date through notifications from different resources. It notifies you through automatic, push, and in-app notifications. Vagaro also uses SMS and email to send reminders. Hence it uses all the resources to remind you and your students about all class timings.  
It also allows you to engage students through memberships & packages. Moreover, you can sell different products or add gift certificates. 
The best part is Vagaro keeps customers' notes and history. You can use it to interact with them in the future. You can also use forms and drive provided by Vagaro. But each of them costs $10 monthly. 
If you want to use Vagaro for marketing then you will need to expand your budget. As each of its marketing tools have separate fees. Except for one that is email marketing. 
Vagaro does have other tools as well. But you will be needing some extra bucks to use. So, it is up to you whether to use them or not. 
Cost  
Vagaro offers a completely free trial. After that, it charges $25 monthly if you are one single user. But if you have more users then you will be paying $10 extra for each of the members added.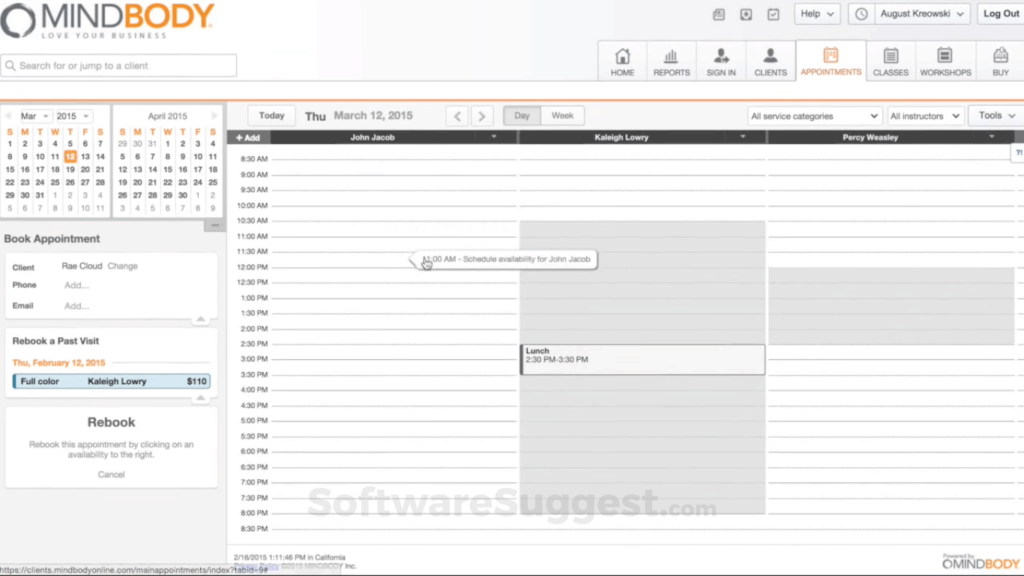 For a long time, Mindbody has been a pioneer in the sector. It's a well-known, feature-rich program that allows you to manage all elements of your yoga studio in one place.
If you use Mindbody you will get the chance to be featured on Mindbody's app listing (possibly the most extensively utilized app out there), as it allows you to catch more walk-ins from tourists and other visitors.
You get almost everything you need to manage your studio with their Starter package.
However, we believe that the Starter package is lacking crucial services such as a mobile-friendly booking website and email marketing, which are available as add-ons or as part of their Accelerate plan.
However, the basic plan provides excellent customer and employee administration capabilities, as well as online bookings, POS, the ability to sell items, inventory monitoring, and more.
It isn't the most user-friendly program on the market, but that is to be anticipated when dealing with a feature-rich application like Mindbody.
Even though it's acquired a poor rap recently (due to increased competition from other applications), it's still a reliable program and a market leader for a reason.
Cost 
Mindbody offers four different plans. And it does not have any paid plan. 
You can use most of its features by purchasing expensive plans. Or you can add on the feature you need in your current plan. The monthly cost of its four packages is:
Starter $139

Accelerate $279

Ultimate $499

Ultimate Plus $699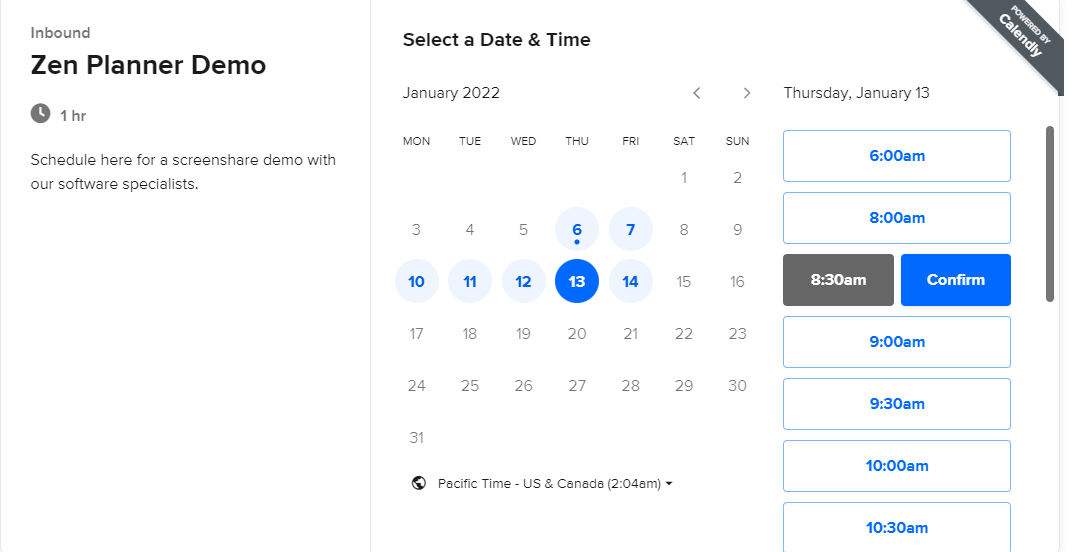 Zen Planner has all the basic tools for yoga booking, and it also has the following features. 
Zen Planner allows you to check-in students with a single click. It will handle your entire events including registration, payment, and communication. And it can also promote and sell your products. 
It's simple and effective lead generation and retention tool allow you to find new students and retain existing ones. 
Moreover, if you find it difficult to use Zen planner, you can join their three free classes to learn the use of it. 
Cost 
It also costs according to the number of customers you have. For instance, if you have 0 to 50 students then Zen planner will charge you $117 monthly.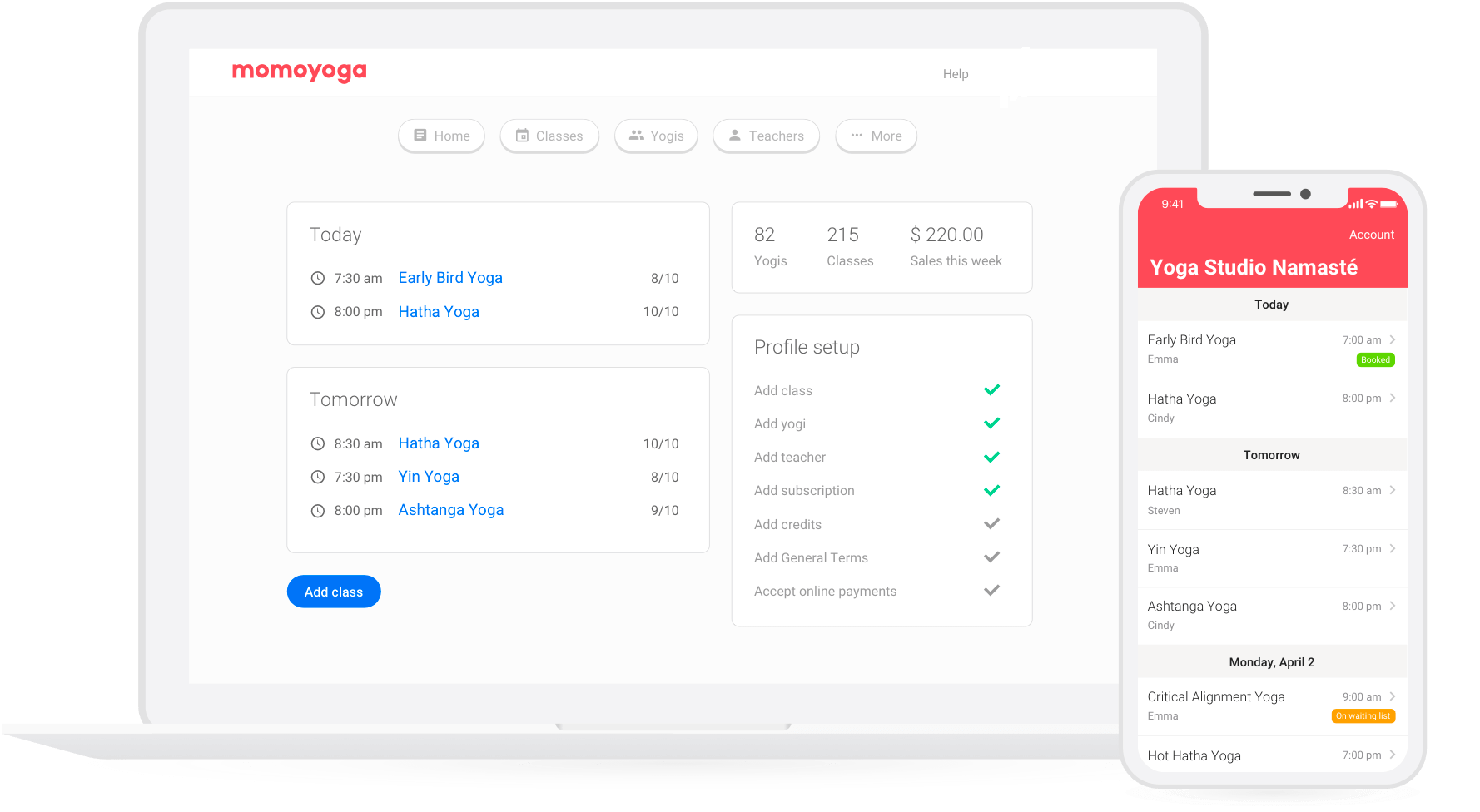 When it comes to the best yoga studio apps you cannot keep Momoyoga out of the list. It gives access to unlimited classes, instructors, and memberships in all plans. But as we know that other yoga studio software allows limited classes and instructors. But you will have to pay a little more for adding new teachers. 
Moreover, Momoyoga has apps for all platforms that are web, android, and iOS. Thus, you can use it on all devices. And the zoom integration makes it easier to start classes. Momoyoga also supports website integration. 
If your appointments are fully packed then you can add the coming students to the waitlist.
It is always a good idea to keep in emotional touch with your clients or students. So, Momoyoga allows you to send personal emails to your students. 
However, it is missing CRM and other management features. 
Cost 
It has two paid plans. But it does offer a 1-month free trial. 
One paid plan is for a solo teacher. Which charges $20 monthly. 
If you have more than one teacher the price starts at $24 monthly. And if you add more you will be charged four additional dollars for each of the teachers.  
Why MIYN is the best option?
MIYN is one of the best lead generation companies. It will help you to find more yoga students. As MIYN is aware of the importance of engagement it provides you with the best landing pages. The landing pages have perfect design and content. They will surely improve your business. 
Additionally, you will enjoy the following benefits by choosing MIYN:
Create a schedule of your classes and allow your students to book accordingly. 

Add events and promotional campaigns 

Get real-time updates about your bookings 

Add more instructors without any extra charge

Get timely notification 

It will automatically adjust the time of appointments for foreign students.  

You can see reports and analytics about reservations and cancellations. 
Conclusion 
Well, this was our list of the 9 best yoga booking apps. It can be seen that most of them are limited to certain features. So, you will have to move to other software or use add-ons to complete requirements. 
Get Started free
But it can be seen that MIYN completes all the features with just one single fee. Its features are vast enough that you will not need add-ons. So, just go and give MIYN a try. 
Frequently asked questions 
What is yoga studio software?
Yoga studio software is a sophisticated and multi-functional solution that will assist you with managing administrative activities, scheduling, payment processing, and event marketing initiatives. 
Do I or my students need to download yoga studio software to use?
Yoga booking software is here to simplify things for you and your company. So, most online scheduling tools are housed on the cloud (internet) and can be accessed with only a browser and a strong internet connection. If you need it, a few scheduling applications include a mobile or desktop version that you may download.
What is ROI?
Switching to appointment scheduling software should save you both time and money. You save time when everything is automated. This frees you up to concentrate more on customer meetings and other aspects of the business, resulting in increased revenue. When customer pleasure and experience improve dramatically, more sales are generated, which is the ultimate ROI.
Will using a yoga studio app help my customers?
Yoga booking software not only aids businesses in scheduling but also aids customers. Customers may quickly make an appointment by going to your appointment URL on your website or other platforms where you've announced it.
Customers will receive automatic appointment reminders and notifications from the booking software. When consumers are satisfied, a business grows, and if customers can reach out and arrange an appointment at their leisure, they will gladly do more business.
Can I use yoga booking software if I have more than two studios?
This may be accomplished by creating distinct appointment pages for each location, then personalizing also the services you provide and assigning team members to those services. You'll have a unique booking page URL for each location that you can email to customers or embed on your website. You may add different work locations as 'workspaces'. 
Live Chat Solution for Websites to Boost your Sales and Customer support