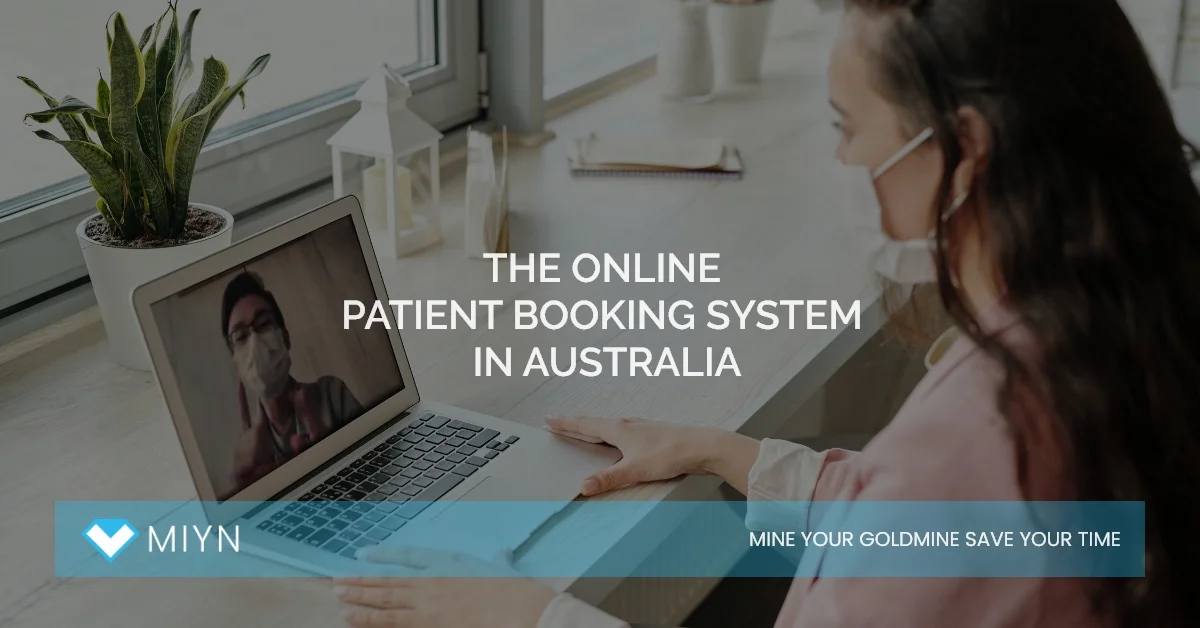 The Online Patient Booking Systems in Australia
MIYN is the patient booking systems scheduling software process of requesting an Appointment from any computer or mobile device, 24 hours a day. The Health Center or Clinic has full control over the Medical Appointment Agenda management, making possible a better organization of time and available resources. Knowing in advance, the Medical Agenda's planning facilitates and improves the prior preparation of the resources required to care for the patient in the consultation. An Online Pre-Appointment System for medical centers and clinics should facilitate communication between doctors and patients, and control the Online Medical Appointment Agenda. Data of the Medical Board of Australia: There are 125,641 medical practitioners in Australia with 43.8% female; 56.2% male.
Online doctor appointment booking system for Clients and Doctors 
Management of appointment scheduling software for doctors
Management of doctor booking platform with the combination of Online communications and Calendar. The Online doctor booking platform that your clients make is automatically inserted into your Appointment Calendar. If, on the contrary, you insert a Manual Medical Appointment, it is automatically synchronized with the Online patient booking systems. Through Online communications, your patients select which Service and Agenda they want to request a Prior Appointment. With the Calendar, you control scheduled appointments, edit them, create new ones or cancel them.
Send Reminders, patient booking systems
Create, configure and plan the automatic sending of notifications and appointment reminders, via SMS or e-Mail. Inform your doctors, nurses, or other professionals in your center about creating an appointment, editing, or canceling each time it occurs. Send an Appointment reminder SMS or e-mail to your patients when there is little time left for it to happen and thus avoid missing medical visits or scheduled appointments. Discover all the advantages of MIYN.
Report And Database for patients
Create a database of your patients in the form of a list. You can consult it whenever you want, edit the patients' contact information, their history, and send them personalized punctual notifications or schedule one.
When your patients make their first Prior Appointment at your center, they insert their data to confirm the appointment, and they are automatically registered in the Database. You can also import one if you already have it created to have it all in a management tool.
Online Appointment Scheduling Agenda on Your Website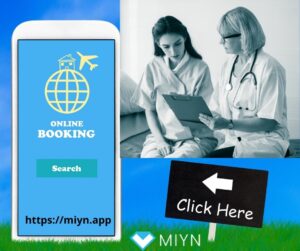 Thanks to the easy integration of the Appointment Management System in any web environment, your patients can request a Prior Appointment from your Medical Center or Clinic website through the Online Agenda that MIYN provides you.
Get Started free
You can hire all the Agendas you need. Save time and money invested in managing telephone appointments and automate the request for an Online Pre-Appointment. Integration on your Facebook page is also possible.
Reservation Calendar for doctor booking 
Allow your clients to book you online 24/7 without intervening even when your business is closed. You will be able to see both the reservations you enter by hand and the reservations and previous online appointment doctor appointment booking system that you automatically receive from the online calendar views: day, week, agendas, or list and have your business under control.
Online patient booking systems
Integrate MIYN on your website, blog, or Social media; your customers can make online reservations whenever and however they want. Online appointments are automatically inserted into your Online Calendar without you having to do anything. Your only management is the control of appointments and reservations. MIYN works 24 hours a day and frees you from the phone.
Notifications to your customers for online communications
Define, plan and configure the automatic sending of notices and reminders by e-mail or SMS. You manage to reduce the percentage of clients who do not show up on the reserved date and time, avoiding wasting time and money, coordinating all your employees, and controlling your business's operation. Improve productivity and internal communication.
Reservation of several people for communications
You can receive reservations from several people in the same time slot with the configuration of shifts, define the time in advance that your clients have to make an appointment online, locate appointments and clients, confirm and validate reservations, block hours and full days, tell your clients when you will be on vacation and much more. Discover how this online reservation system adapts to your business.
Billing for patient booking systems 
From an appointment on your MIYN calendar, you can charge service by opening a window with the service's data corresponding to that appointment as well as its price. In addition to the service, you can add additional charges, such as products or services that are not related to the appointment. As you add extra costs, they will be added to the client's total to be paid.
Reports and Statistics
Collect information on the use of the appointment of your clients. Work and analyze the data to know your business's state and use that information to stop, invest or improve strategies and offers that will make your business grow. Create periodic reports and statistics and analyze the growth trend of your business with MIYN.
List of doctor booking Client 
You will have a complete list of your clients with all their contact information and annotations, both those who make an online reservation and those you enter manually in your MIYN calendar.
Get Started free
You can send individual notifications both by email and SMS from the list itself.
Prepaid billing for online communications
The MIYN online reservation system launches a new module in its billing section from which from now on you will be able to manage the cash of your business or company, managing the flow of your income and withdrawals, indicating the concept, the agenda to the that the movement is related, and controlling it with the naked eye with a clear and simple list. This functionality, which you can configure or not, adds value to your business's pre-Appointment service. Your customers can pay at the same time as booking with a card, safely and comfortably. For you, this is an advantage, since you make the MIYN Online Booking System your sales channel. 
Access Permits for Staff
You can build different access roles for your Staff where you can establish specific permissions for editing or viewing the calendar, agendas, appointments, etc. creating profiles and assigning them to schedules according to your needs.
Session Bonuses
You will be able to generate codes to purchase several sessions, make discounts, and even carry out promotions for your best customers. You can offer the bonuses you want per person and carry out the advertising that best suits your needs. Remember that afterward your clients will be able to continue booking their next appointments when they need it most or it does them online and each time they use a coupon it will be discounted from the MIYN system.
The MIYN reservation program continues to publish new functionalities continually; this time, we are launching a new expense management module to manage your business. MIYN's online billing and appointment system allows quick and easy expense management. Create and edit expenses, add a concept, a payment method, you can also indicate if it is punctual or recurring, and visualize them in a list clearly and cleanly.
Frequently Asked Question
What is MIYN? & Why use MIYN?
MIYN is the world's most trusted customer relationship management (CRM) platform. We are here to help your marketing, sales, commerce, services as one from anywhere. So you can keep your customers happy everywhere. That's where MIYN comes in. We can help you convert more of your visitors into actively engaged, confirmed leads. You were delivered straight into your marketing funnel where you need them.
WHAT DOCUMENTS SHOULD I BRING TO THE APPOINTMENT?
It is necessary to give up at the administration time, on the day and era of the appointment, bringing the booking notice, the health care, and an identification document. If the interested individual is subject to guardianship, he must grant himself followed by the subjects holding legal obligation. If you have not downloaded the note at the point of booking, you can do it later from the website homepage by clicking on "Manage appointments" and entering your tax code and the appointment number.
What are the benefits of having a live chat on a website?
Increase sales and conversions

It Reduces your support costs

Build trust with buyers

Gain a competitive advantage

Increase your average order value

Satisfy your customers



WHAT HAPPENS AFTER BOOKING THE APPOINTMENT?
The booking notice must be printed with the post number, date, and time. If you have not downloaded the record at the time of booking,
Get Started free
you can also do so later from the website homepage by clicking on "Manage appointments" and entering your code tax and appointment number. The user who created the reservation will receive an SMS 72 hours are the scheduled date.
CAN I CHOOSE THE BOOKING TIME?
No, you can only take the day and book the first availability of the day.
IS IT POSSIBLE TO RETRIEVE THE APPOINTMENT REMINDER LATER?
If you have not downloaded the record at the time of booking, you tin do it later from the website homepage by clicking on "Manage appointments" and entering your code tax and appointment number.
IS A DOCTOR'S PRESCRIPTION NECESSARY?
No, the recipe is not required.
CAN TEMPORARILY domicile PEOPLE BOOK VACCINATION IN MIYN?
Only spirits who have a family doctor in the quarter can book the treatment; therefore, people briefly domiciled and assisted by a General Practitioner at an ASL in MIYN can book the immunization.
IS MIYN SAFE?
All communications between your smartphone (or tablet) and your AUSL server take place with an encrypted protocol. Even if someone were to get in the CUP way (listening on the communication line), the data would not be interpretable.
DOES MIYN WORK ON MY DEVICE?
MIYN is a cloud based software. You can access it from all the devices. It can be either a computer or a mobile phone. And it works fine on all the operating systems.