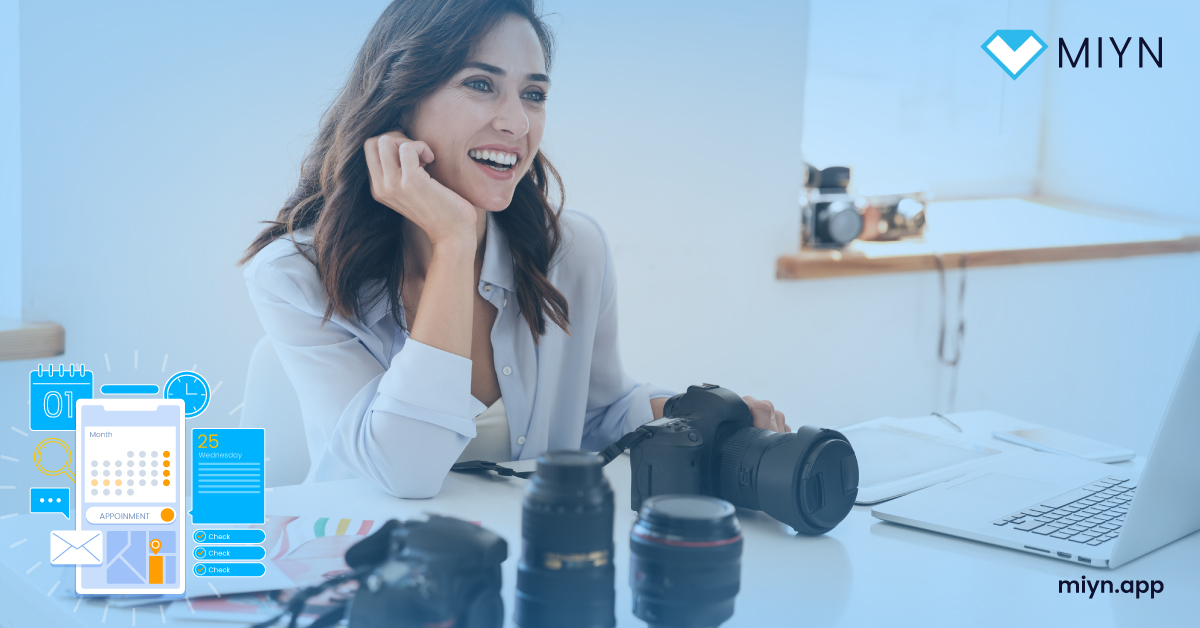 How to Increase photography Sales using a Photography Booking App?
Online booking systems have been a blessing for a lot of businesses. They not only allow you to schedule appointments, but also give your customers the option to book quickly through your website. There are many online search services which help users locate a service provider in their area, but most business owners today prefer to have a booking system on their own website. A photography booking app is not only limited to just booking. It may also help you to know about people who visited your website but went away without purchasing any plan. Thus you can prefer an online booking system for photographers over simple email reminders or marketing. 
Why should you have a photography booking app?
Your photography business may have a few or several hundred clients; each client is different and each shoot has different needs and requirements. The type of business and the number of clients will determine the number of bookings a company has at any given time.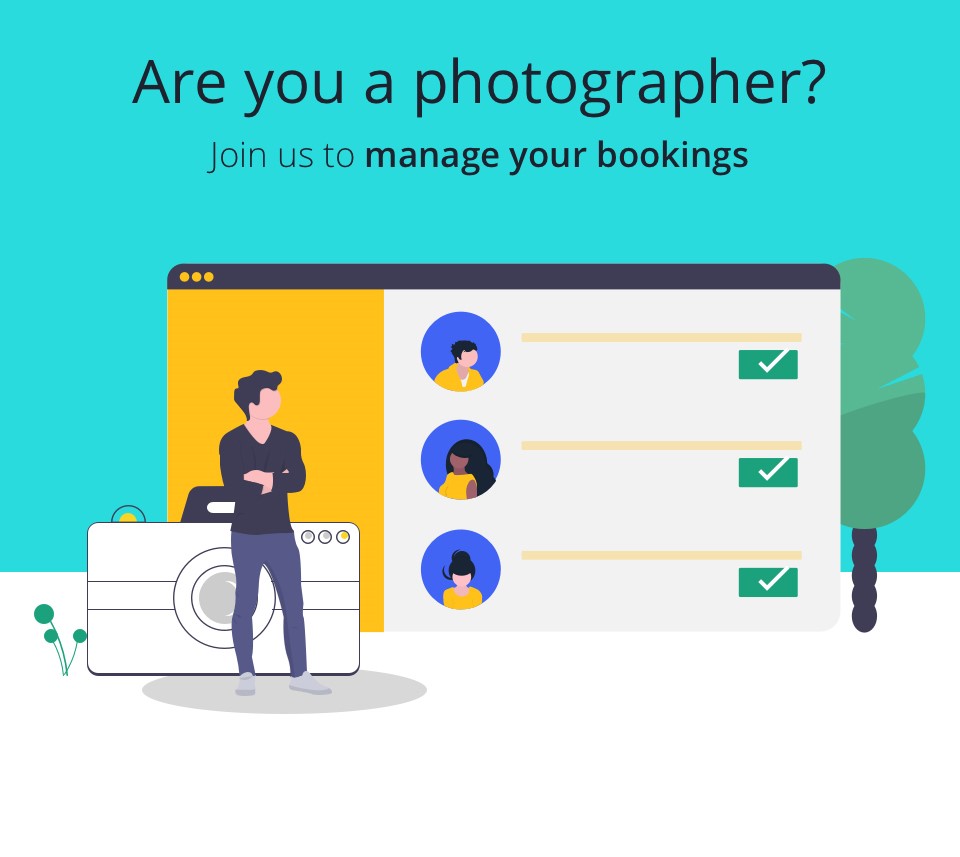 The best Appointment booking apps provide a simple, easy to use platform for photographers and their clients to view open time slots and quickly make appointments. Your booking app should have an attractive design that is easy to navigate, with features that are understated rather than flashy. It should be efficient, so both the photographer and client can easily see available times.
Benefits of having appointment booking app for photographers 
Here are some of the most highlighted benefits of booking apps for photographers. 
Stay organized 
Online booking systems can be more than just a calendar. You can include photos, prices, descriptions of services, and even testimonials from previous clients. They are designed to help you keep track of all of your appointments in one place, so you can plan for them accordingly.
Online booking systems are great because they are designed with the user in mind. You can easily add new appointments, edit or delete old ones, change the price of appointments on the fly, and even charge clients through the system. This is great if you have multiple photographers on your team who are working together. 
The online booking system allows you to divide up your clients by photographer. That way it is easy for each person to see which appointments they have scheduled and how much time is left before their next session. You can also set up reminders for yourself to help ensure you don't forget about an appointment.
Get Started free
This is a great way to keep all of your bookings organized and make sure that everyone gets the attention that they need on time!
Improve customer relationship management 
Taking care of your customers will keep them coming back to you, and will also encourage them to recommend you to others.
If you're not sure how to identify your repeat customers, a photography booking system can be a big help here. Booking systems have a lot of useful features that can help you improve customer service and also crm system. 
For instance, they can tell you which of your regular customers have been booking the same trips over and over again. This gives you a good chance to reward these loyal customers with special offers.
Grow your business 
An easy-to-use, seamless booking platform will allow your customers to book appointments online with just a few clicks.
Allowing customers to book online saves you time and effort, as there is no need for you to take calls from potential customers or follow up on email enquiries. You can be assured that enquiries are being managed professionally by the system.
The best part is that it allows you to get very specific about your appointments and have a solid understanding of how busy you'll be on any given day. This means that you can plan your workload around your appointment schedule, ensuring that you have enough time to carry out all the tasks required of you without any unnecessary stress or rushing around.
When used properly, an effective online booking system can have a positive impact on your business. It will allow you to increase the number of bookings and encourage repeat business from previous clients. Overall, this can help you manage your business more effectively and achieve greater success over time.
Stay active 24/7 
One of the main benefits of online booking systems is that they allow customers to book at a time that is most convenient for them. Using the online booking system, they can make their reservation any time of the day or night without worrying about whether or not it is during business hours.
Get rid of email or telephone reservation 
When your customers have to wait in line on the phone, you are losing business. It is not surprising that in most cases, customers do not wait in line at hotels for more than two minutes.
If you are serious about growing your business, this is one of the most important steps you need to take.
Get Started free
Do you want to grow? Then get rid of phone or email booking and get an appointment booking app. This way you will get more customers, and they will be happier customers!
Cons of having a photography booking app 
Well there are a couple of shortcomings, and they are ignorable. Why? Because those are the basic requirements of your photography business. If you don't follow them you will not be able to grow. Not even after hundreds of years.
However, the cons of a photography booking app are:
You may have to pay a price 
Online booking systems can be a great way for photographers to make more money, but they come at a cost. So before you sign up, know what you're getting into and set clear expectations about what you'll need from your online booking system and what you'd like to see.
Never fall for the trap of free service. All of the free online booking systems for photographers will charge in one way or another. They may also fail to provide the service they promise. 
Thus you will have to pay for the best outcomes. However,  you should look for a free trial. A free trial will help you to know the power of booking app you are going to use. 
Needs internet connection
Although internet connectivity is becoming more common, one of the major drawbacks of online booking systems is their reliance on it. Your customers will require internet connection to make a reservation using the online booking system. On a smartphone, tablet, computer, laptop, or any other internet-enabled device, this can be done.
Which is the best photography online scheduling app?
Are you a photographer who wants to increase your business? In today's tough competition, finding new clients and making sales is not easy.
But if you want to boost your photography business, you have to have a good online scheduling app. And I'm going to introduce you to the best one! It's MIYN booking app.
I know how hard it is to grow a photography business. It takes a lot of time and energy to find new clients and then get them bookings. You have to have a good marketing strategy, but marketing is not enough. You also need an assistant that helps you manage your client base and helps you make sales.
That's why you should try MIYN. It will help you get more clients and get them booked in no time! 
MIYN booking app is a cloud-based app that allows you to manage your client base easily.
Get Started free
You can add all your client details in the app with just one click! Upload all their photos in the right order, add booking details like location, date, hourly rate etc. The best part is when they call you for appointments, the app already sends them your schedule so they can book appointments. 
If you are interested in testing MIYN you can first try it's free one month trial. 
Features 
MIYN has all the features one can imagine having in online free scheduling software.
The list of its features is:
Booking 

Landing pages 

Lead generation 

CRM (customer relationship management)

Instant messages 

Appointment Calendar

Click to call function 

Document sharing 

Real time chat 

Client portal 

Automated reminders 

Detailed analytics 

Subscription management 

Active Support  
Final thoughts 
Well, this was it from our side. In this article, we discussed the pros and cons of the photography booking app. Now you know that it is a great idea to invest in a booking app. If you don't want to waste your money feel free to try the free trial of MIYN. This trial is perfect as it does not demand any bank details. 
Frequently asked questions 
Is it worth investing in photography studio management software?
A photography studio management software is able to manage your studio, book meetings, generate leads, improve CRM and much more. So if you want to automate such tasks you should invest in photography management software. 
Why should I purchase an appointment booking app for photographers?
It is recommended to purchase a booking app because a purchased app can provide value without disturbing business. Moreover the free tools can charge you for different additional features they provide. And sometimes those features are necessary for the growth of your business.