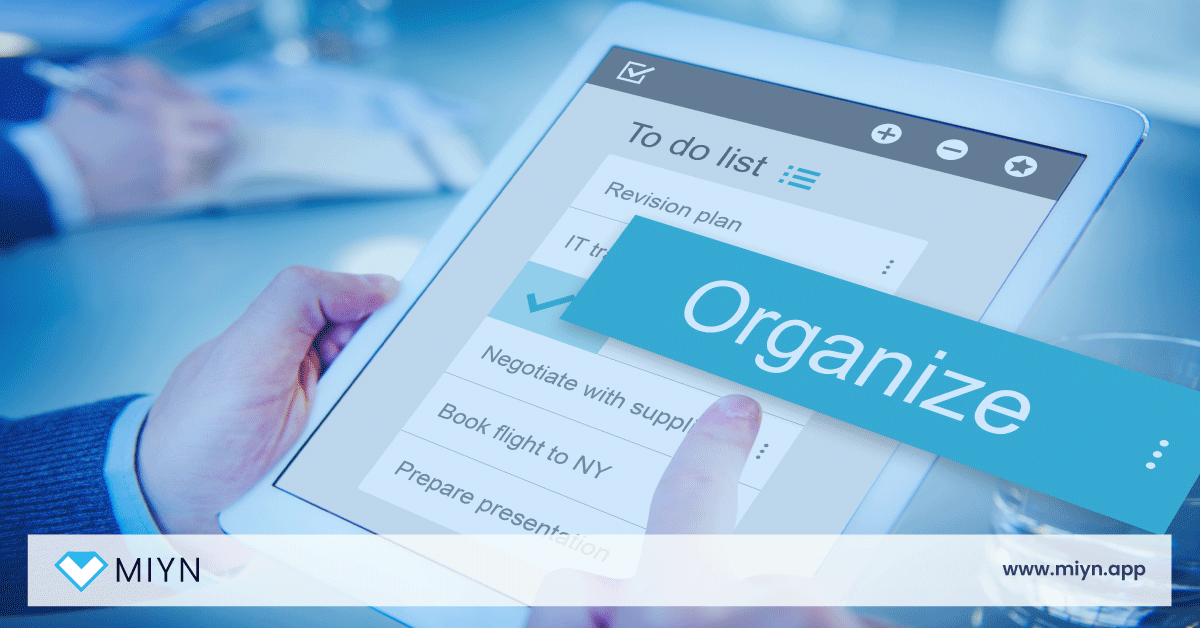 The 8 Best Calendar Apps to Stay Organized in 2021
Using a calendar will make a significant difference in your life. A calendar will help you remember appointments and meetings, as well as making your life less chaotic. Furthermore, having all of your meetings written down on your calendar frees up your mind to focus on other essential activities. That's why it's important for your business to have the best calendar app possible. 
Apps for calendars  are considerably easier to handle than traditional calendars. There are a plethora of calendar applications available. Which one do you think you should pick? Don't worry we'll assist you in making your decision in this article.
We've compiled a selection of the best calendar apps just for you. This list has something for everyone, whether you want an app that offers you a lot of power or just want a basic calendar that helps you to schedule a day. 
MIYN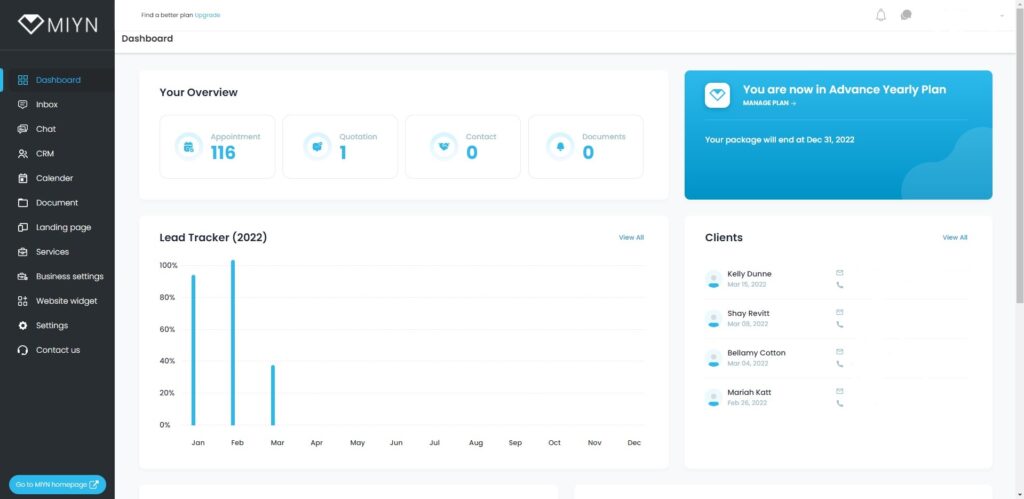 You may not have much time as a businessperson to manually check the calendar for upcoming meetings. There should be a permanent solution to this problem. 
MIYN comes to your rescue in this circumstance. It offers all of the features you'll need to make it your one-stop scheduling app. 
MIYN is adaptable and simple to use. Moreover, MIYN allows you to easily manage your reservations, personnel, document sharing, and much more. 
You'll also be kept informed about upcoming events and meetings thanks to the automated environment. As a result, even if you are really busy, MIYN will never let you miss any appointments. 
Get Started free
The best thing is that it has an amazing free plan, making it the finest free scheduling app and business calendar. Because other free appointment scheduling software's don't usually provide this many features.
Pricing 
Its initial offer is entirely free of charge. You may take advantage of all of the benefits of this deal. 
You may upgrade to the basic or advanced version if you want to use more features. The monthly membership for the basic edition is merely $19, while the advanced version costs $29. Remember that MIYN is not just a calendar app it is a complete scheduling solution. 
Google Calendar App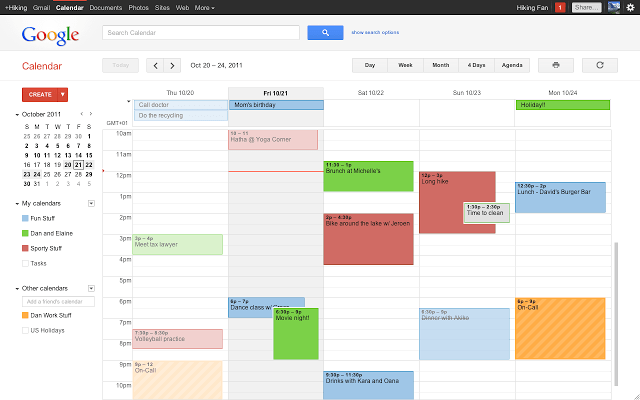 Google Calendar is a fantastic calendar tool that works on all platforms. On Android phones, it's the default calendar, and it also works nicely on iPhones. It's simple to add new events whether you're on your phone or computer, and everything stays in sync regardless of your time zone.
It becomes much better if you also use Gmail, because Google Calendar can generate events based on emails you receive. When booking things like flights or concert tickets, this is a lifesaver. Thus it is one of the best free calendar apps. 
Price 
It is completely free, and you can use it one all the platforms. 
Apple Calendar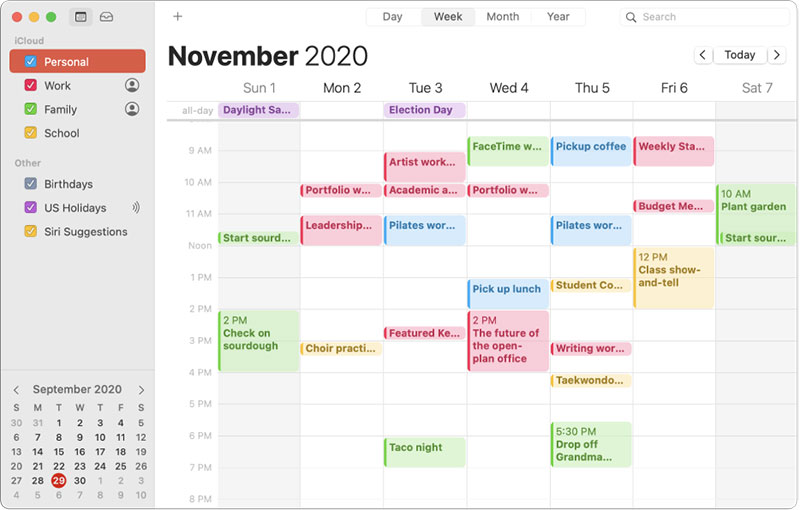 When it comes to the best free calendar apps for iPhone then you don't need any other option but apple calendar . It syncs all of your events across your iPhone, iPad, Apple Watch, Mac, and whatever else Apple comes up with next. 
Apple Calendar has all of the capabilities you'd expect in terms of calendaring, including a strong interface with Siri that allows you to create events with just a few phrases. 
Pricing 
Completely free. And it is available only on Apple products and the web. 
Outlook Calendar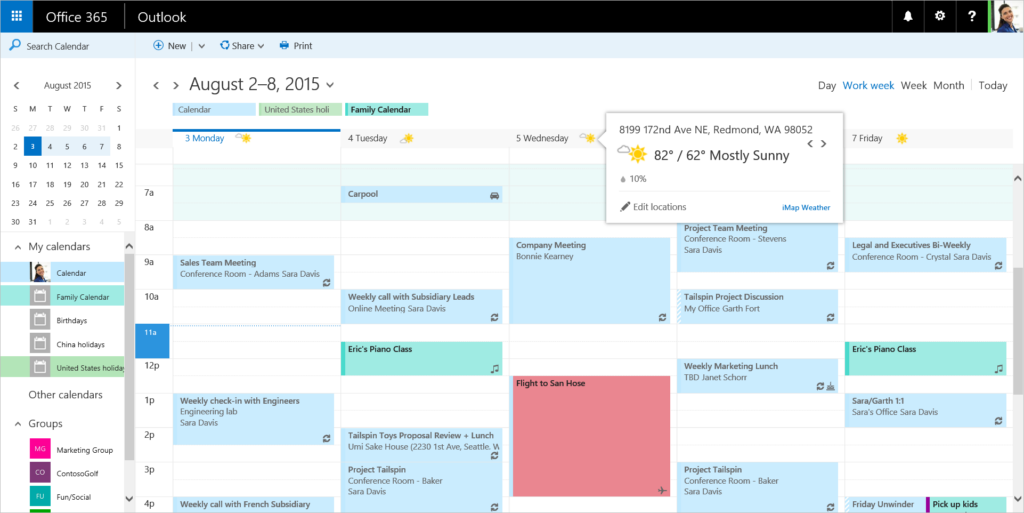 You're undoubtedly acquainted with Outlook Calendar, whether you like it or not. It's almost unavoidable in major corporations and educational institutions. In reality, this is the app's primary benefit: a large number of users already own and use it. 
The software itself is rather good. You can schedule events and reminders, make meeting requests, and look at several calendars at the same time. 
There are no other "fancy" or otherwise noticeable features, which is great. Outlook Calendar is ideal for keeping track of your meetings and business activities if you only need a simple calendar. 
Pricing 
It is a part of Office 365 personal. And its price is $69.99 yearly. 
It is also available on all platforms. 
Hamro Patro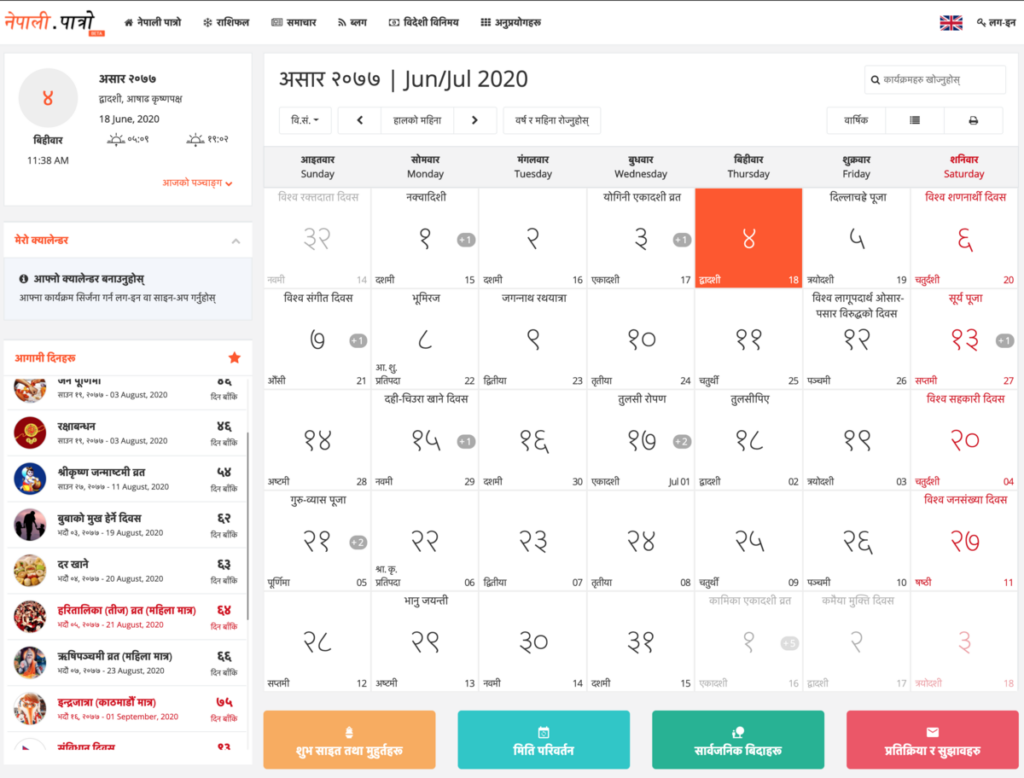 Hamro patro is a combination of two Nepali words which translates to our calendar. Initially it was launched as a simple calendar app but later they added new features.  Like Nepali FM radio player, trending Nepali videos, Nepali news, birth chart, horoscope, Nepali Gold/Silver pricing, Forex, Vegetable prices, and so on. 
You can use this app in five different languages. 
Nepali

Nepal Bhasa 

Bhojpuri

Maithili

English
Pricing 
It has a free version, but it displays ads in it. If you want to use it ad free then you can purchase its paid plans. For 6 months membership you will have to pay 1.99 dollars and for yearly membership you will be charged $2.99. 
Moreover, you can use it on all platforms. 
Calendly App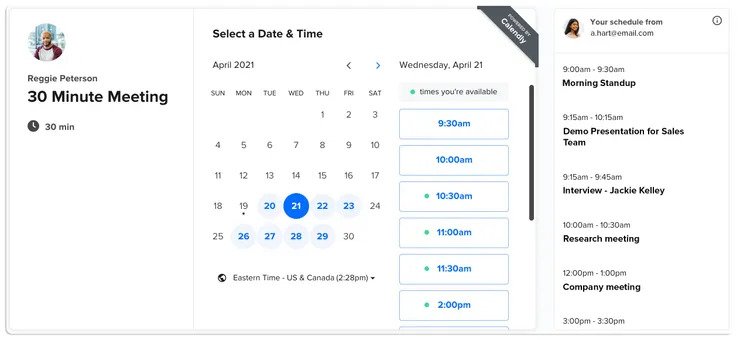 Calendly is a meeting scheduling app. Which is simple and effective. Moreover it has useful management tools. 
Calendly connects to iCalender, Google Calendar, Outlook, and Microsoft 365 to allow you to create schedules. Now you may create your meeting offer and send it to your clients via a link. You can only choose one sort of meeting in the free mode, but the premium offer allows you to choose as many as you like.
Pricing 
Calendly is one of the best free calendar apps available. Because you may book an infinite number of meetings with its free offer. however there are certain restrictions. You won't be able to link more than one customer, and you won't be able to have several meeting offers.
So, if you want more features, you'll have to subscribe to their service. The premium version's monthly subscription price is $8, while the pro version's fee is $12.
You'll have to contact their customer service to find out how much a custom offer costs.
SavvyCal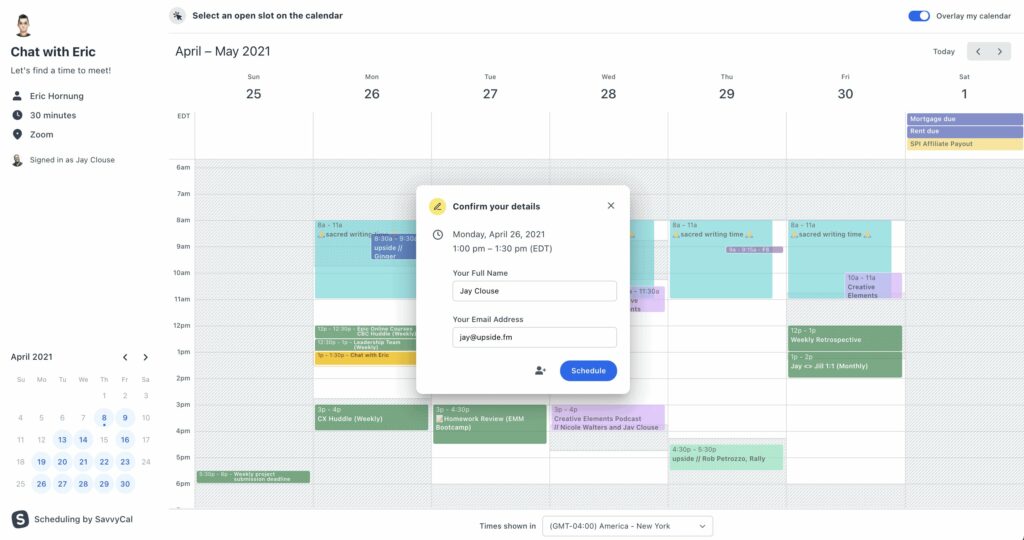 Meetings are the worst, whether you're a student or a professional. You might spend weeks exchanging emails attempting to locate a time that is convenient for both of you, meanwhile you can even forget the purpose of your meeting. 
The goal of SavvyCal is to solve this issue. Because the software syncs with Google Calendar, thus your meeting availability is always up to date.
All you have to do to plan a meeting is submit a link with a list of times when you're available. The receiver then selects a convenient time for their appointment, which is instantly synchronized to both of your calendars.
SavvyCal is similar to many other scheduling tools in these areas. The primary distinction is that the recipient's calendar is shown on top of the scheduling page. Because the receiver does not have to move back and forth between their calendar software and SavvyCal, the scheduling process is greatly accelerated. Which shows that SavvyCal is one of the best calendar planners. 
SavvyCal now connects with Zoom, our preferred video call app, as well as Zapier and Google Meet. Outlook Calendar and iCloud Calendar integrations are also in progress. But still it is one of the best calendar apps for windows. 
Pricing 
It is a little expensive. It charges 12 dollars monthly for each user. 
And it is just limited to the web. You cannot access it from any other platform. 
My Study Life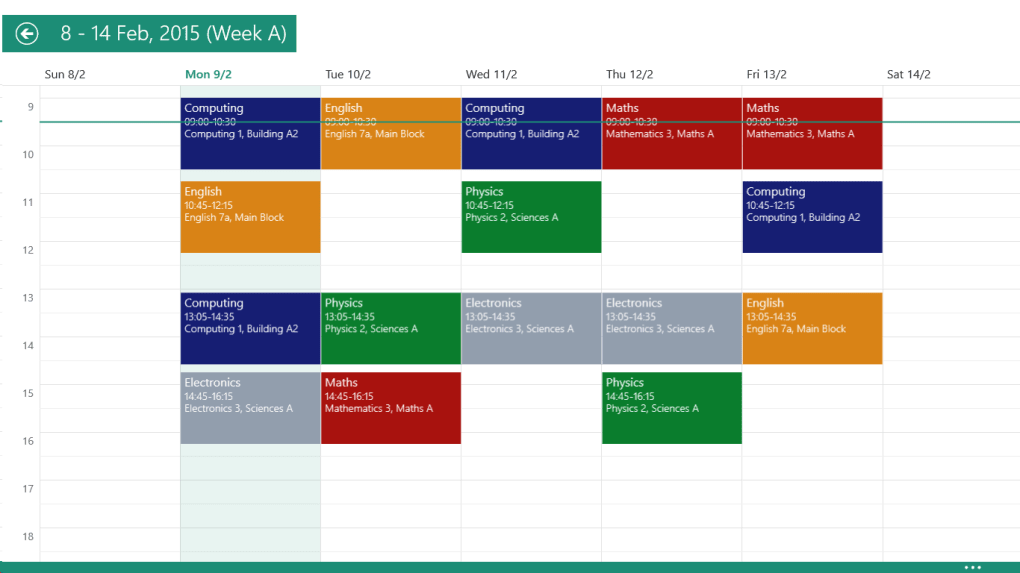 Unlike other calendar applications, My Study Life is designed specifically for students. It's a calendar software designed particularly for students, with several unique features not seen in other calendar applications. Which differentiate it from other free calendar apps. 
My Study Life has sophisticated scheduling capabilities that will help you stay on top of your academics and extracurricular activities. If your class schedule changes throughout the week, My Study Life can keep track of it so you don't miss a class. There's even a section dedicated to test scheduling.
My Study Life also works offline and syncs your calendar across devices. This means that regardless of your location or internet connectivity, you'll always be able to keep track of your classes and assignments. 
Pricing 
It is a free calendar schedule app. Also, it is available almost on all platforms. 
Conclusion 
As you can see, there are many online calendar planners. You can choose any of them. But the problem is that they are just meeting planners. They cannot help you to grow. So, you should choose an option which can help you to close more meetings and grow quickly. 
Get Started free
MIYN is the perfect option for you. It is the perfect option because it is a complete meeting scheduling solution. 
Frequently asked questions 
Which online calendar should I use?
There are many online calendar apps that you can use. The most famous ones are Google calendar, Outlook and Apple calendar. But these are just simple calendars. You should use an app which can help you to increase productivity. And MIYN is one of the best options in this scenario. 
Why should I use MIYN as my calendar app?
MIYN is a trusted online calendar. It will help you create schedules and follow them on time. Also, it offers many other options that will help you to improve your business. 
Does MIYN have hidden charges?
We will not charge you anything unless you purchase the premium features. 
MIYN Cloud-Based Appointment Scheduling & Landing Page App Out Now On WordPress Webstore