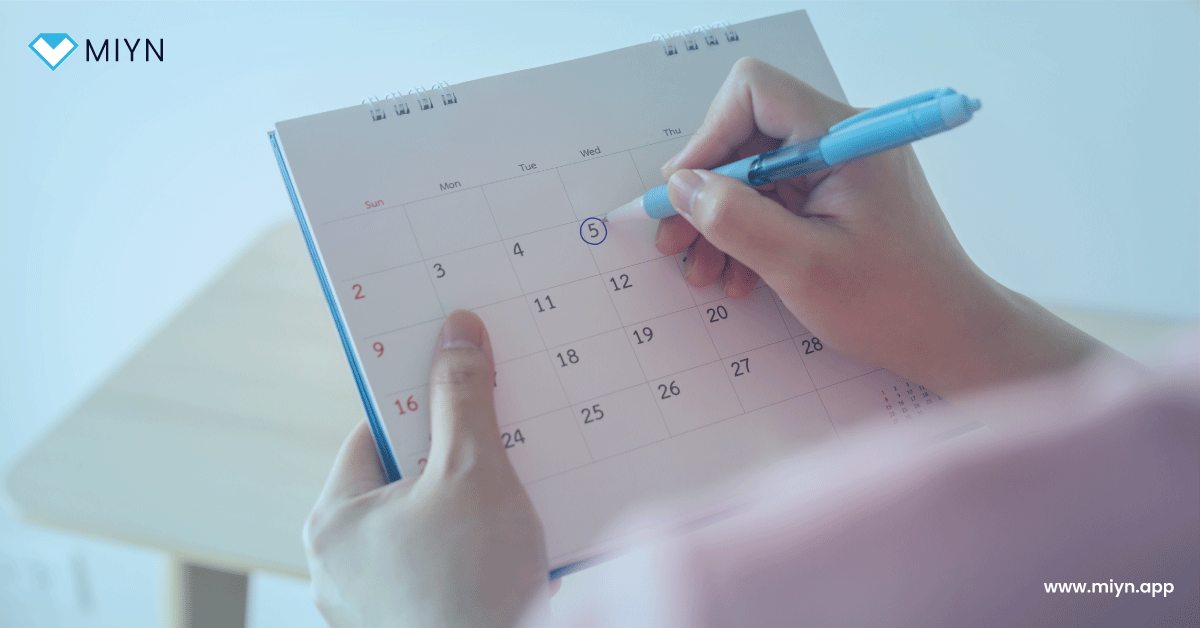 7 Awesome Scheduling Apps That Could Save Your Sanity
Scheduling app will help you to save your Valuable time. The most dreaded ritual of any business is scheduling. It is not easy to schedule a perfect time of meeting for you and your client. You may have to make more than one phone call to decide a suitable time. This process will waste most of your useful time. 
So, to save your time you should leave this manual method of scheduling. You can do that by using one of the scheduling apps. Appointment scheduling app will help you to save your precious time. As, they will automate the process of scheduling for you. 
But which scheduling app should you use? Well don't worry, because in this article we have collected 7 best booking apps for you. Now, read on to select your scheduling software. 
MIYN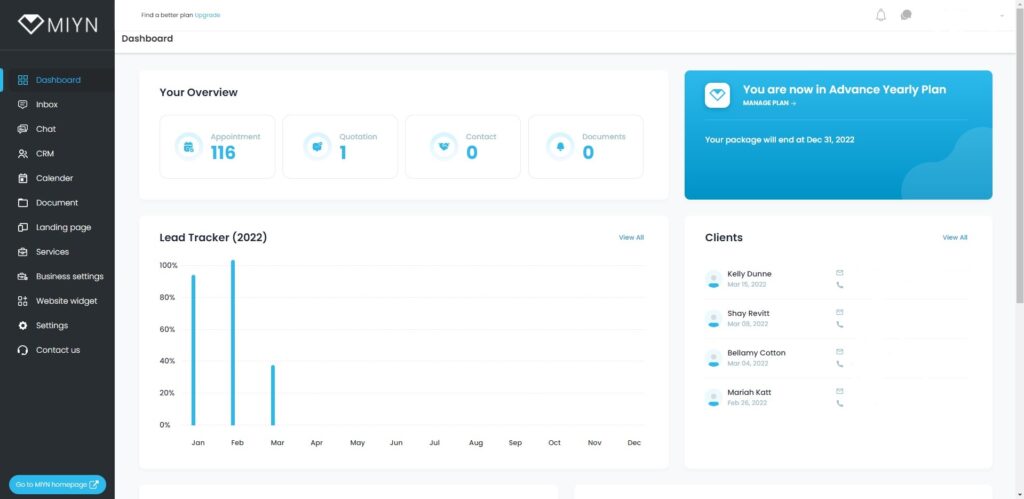 MIYN is one of the best appointment scheduling apps for free. It has all of the qualities that an ideal appointment scheduling system should have.
The best thing is that it is the best free scheduling software since its offer starts at ZERO DOLLARS.  On the other hand Other free appointment software does not have as many functions. As a result, we can declare it to be the finest online booking system.
If you utilize the free version, there are no additional costs. It also includes all of the essential functions of scheduling software. Even if you utilize the free versions, you will not be disappointed. 
Platform 
Currently it is just available on the web. 
But lucky for you we are soon launching our android and ios app. Which will help you to stay connected with your customers no matter where you are. 
Pricing 
It has a free version which includes all of the necessary features for your business. But if you want to add more features than you can go for the paid plans. 
Get Started free
Its basic plans cost $19 monthly and the advanced one costs $29 monthly. 
Calendly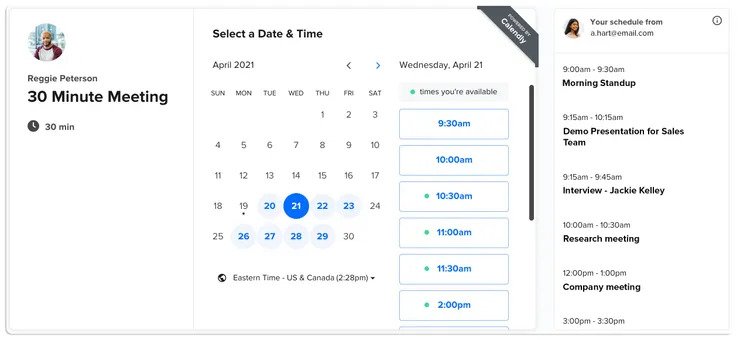 Calendly is your one-stop shop for professionally and effectively arranging meetings, freeing you from the stress of back-and-forth emails so you can get back to business. Already trusted by more than 50,000 businesses and 10 million people across the world, the smart scheduling leader. 
Calendly now has enhanced collaboration features for teams, as well as comprehensive administrative controls and enterprise-grade security and compliance.
Give your visitors and customers the fast, flexible access to your business they expect. 
With calendly you can give your visitors and customers the quick and easy access to your company that they expect.
Moreover to save time you can automatically route the correct meetings to the right individuals
Platform 
Calendly is available both on web and mobile. 
Pricing 
You can use Calendly for free but with limitations. 
But to use this tool effectively you will have to purchase higher plans. Which start from 8 dollars monthly for each user. 
Appointlet app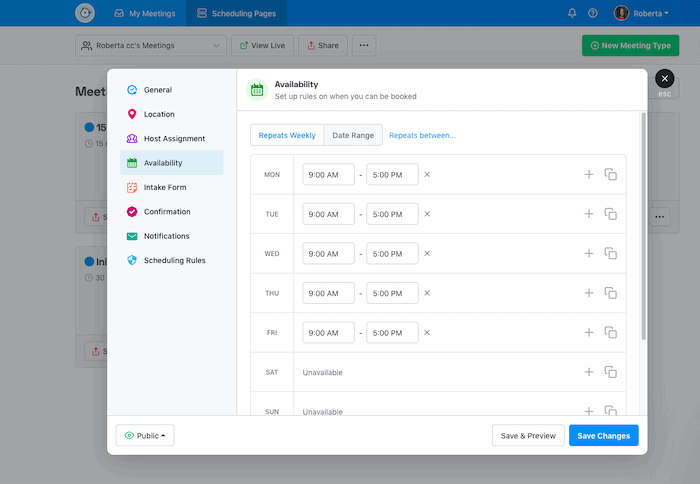 Appointlet is a dependable scheduling app for business. It assists small and medium-sized enterprises with streamlining their booking procedures and data management.
Your schedule page may be simply integrated into your website, emails, and landing sites. You can save time and money by using tools like automatically sending customized email confirmations and reminders, and reduce meeting no-shows.
Platform 
You can use it on the web as well as on the phone. 
Pricing 
It does offer a free version with certain limitations. However it is a reliable free appointment booking app. 
In order to enjoy all of its features you can purchase its premium offer. This cost of this offer is $8 monthly for each member. 
Hotschedules app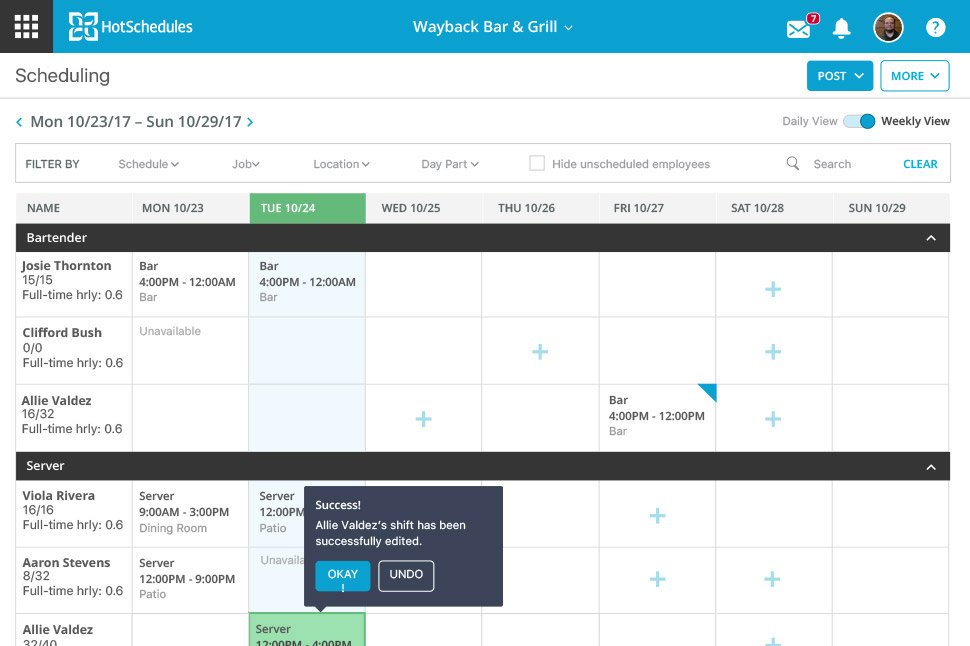 It's the quickest and easiest method to manage your calendar and connect with your team and clients. Moreover HotSchedules is the industry's #1 scheduling app. 
It's popular among team members since it allows them to switch, pick-up, or release shifts with a single click. Automatic shift pick-ups when you desire more hours and time off requests when you don't make work-life balance a breeze. 
Schedules and the roster are instantly updated to your phone with any manager-approved changes thanks to calendar sync and alerts.
Managers enjoy the 75 percent time savings and one-click approvals for shift changes when creating schedules. 
Platform 
It is available on all platforms. 
Pricing 
It will cost you $49 monthly and allows upto 30 users. 
Microsoft booking App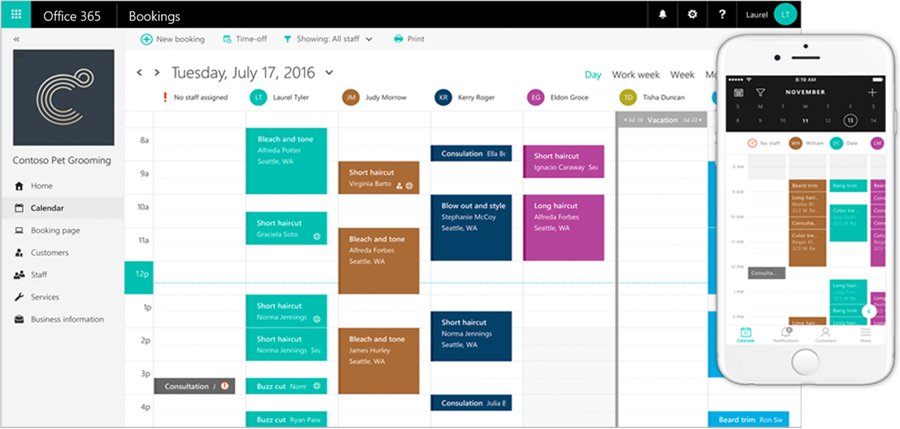 Microsoft Bookings is a scheduling application that is part of the Microsoft Office suite. Bookings is a Microsoft feature that allows clients of small businesses and enterprises to book meetings with the firm. It was introduced in March 2017. 
The software is available to Office 365 Business Premium users and integrates with Microsoft Teams and the defunct Skype for Business; however, this functionality was not available at the start. 
However we can agree that it is a reliable appointment scheduler app. 
Platform 
It is only available on the web. 
Pricing 
Microsoft booking app is not a separate software. You will get it once you purchase the Office 365 business premium. 
Google calendar app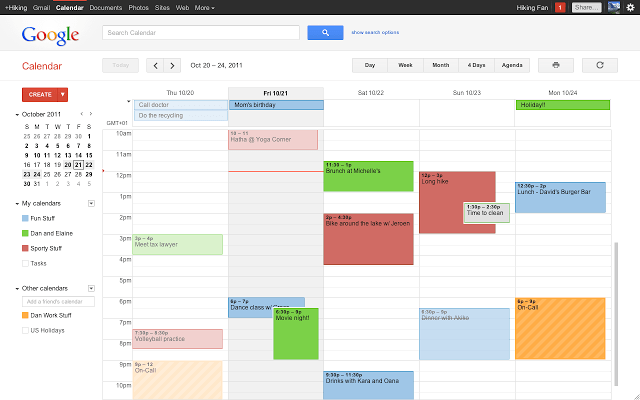 You only know google calendar as the best online calendar. But here you can also book appointments with your clients. 
Google calendar allows you to set a block for appointments. Later it will be used by people to book a meeting according to their availability. It can be used by small businesses and startups. 
Appointment slots are useful when you don't know who needs to meet with you, but you want to make yourself available. You can offer people a block of time on your calendar that they can book time slots within. 
We can say that it is one of the most useful apps for appointment booking. 
Platform 
You can use google calendar appointment slots on all platforms. 
Pricing 
It is completely free 
Acuity scheduling app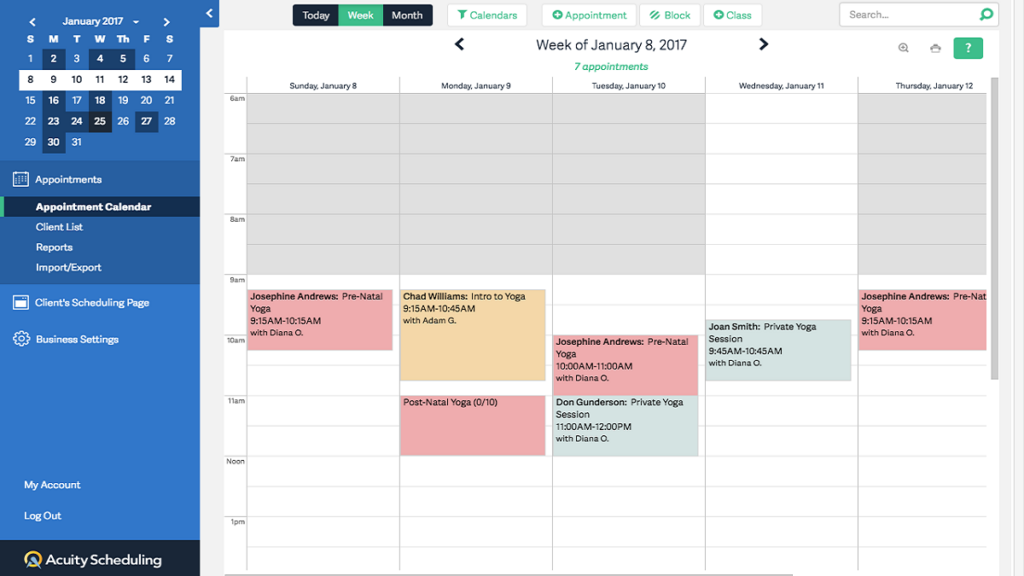 Acuity scheduling app is a useful appointment app. This tool can save your time by automating the scheduling process. You will just have to set the time of your availability. This timeline will be shown to your clients and they will be able to select one of the slots. 
Moreover it also offers payment gateways. Thus your clients can pay you from the same platform. It allows your consumers to pay via Stripe, Square, and Paypal.  And they can also cancel or reschedule the meeting on their own without disturbing you. 
Platform 
You can use the acuity scheduling app from all the platforms. 
Pricing 
It offers a 7 day free trial. Which includes all the features of the package you choose. 
After trial the charges from 15 dollars monthly. 
Why should you choose MIYN as your online booking app?
The answer to this question is straightforward. First, it has an amazing free plan. Second, it has all the features that can take your business to another level. Here is a list of features that you will find in MIYN. 
Website popups 

Instant messages 

Appointment Calendar

Click to call function 

Document sharing 

Real-time chat 

Client portal 

Automated reminders 

Detailed analytics 

Subscription management 

Active Support  
Conclusion 
There is a plethora of appointment scheduling software available. Some of these are free appointment scheduling software. They would, however, charge you in some way, which is not the case with MIYN because we are here to assist you in growing your business.
With regular reminders and an easy-to-use interface, MIYN will assist your business in growing. So, instead of becoming upset with the tedious effort of phone calls and emails, sign up with MIYN and see how much money you can make.
Get Started free
If you're still undecided, try out the free edition of MIYN first. It will assist you in determining the value of MIYN. If you don't like it, you may switch to another free scheduling program without losing any data. 
Frequently asked questions 
Why should you use MIYN as your appointment booking app?
MIYN is one of the most well-known appointment scheduling programs. It will assist you in improving your marketing, sales, and services. As a result, you can keep your clients satisfied while also expanding your business. 
Furthermore, MIYN's appealing landing pages will turn your visitors into buyers. As a result, your marketing funnel will be exactly where you need it.
What are the benefits of using online booking apps for your business? 
You'll need appointment scheduling software if you don't want to write emails by hand. This application will make managing your meetings a breeze for you. They'll also send you reminders on a regular basis. As a consequence, you won't miss any of your meetings, and your business will grow.  
Do online booking apps increase sales? 
It is seen that there was a boost in income of small businesses by 37 percent on average when using online booking systems. Local companies who implemented online booking systems to their websites saw a 120 percent boost in income in certain situations.
CAN I CHOOSE THE BOOKING TIME?
No, you can only choose the day and book the first availability of the day.
Is MIYN secure? 
An encrypted protocol is used to communicate between your smartphone (or tablet) and your AUSL server. Thus, the data would be unintelligible even if someone got in the path of the CUP (listening on the communication line).