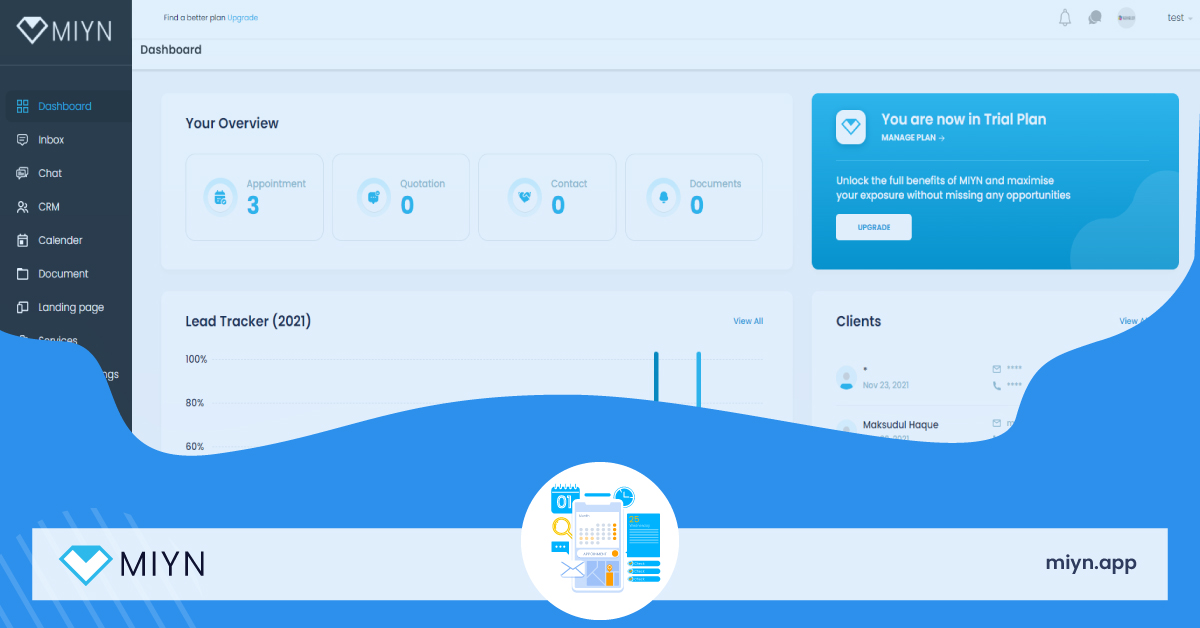 How to Add MIYN's Calendar Booking System to Your Website
You can't deny the fact that if a business does not adapt to the new circumstances, it will stay behind or go bankrupt. Do you remember Kodak or Blockbuster? They failed because they didn't improve with time. And you, my friend, are doing the right thing by adding a calendar booking system to your site. 
As this is the new big thing. So, if you can start using it quickly, you can stay in the top numbers of your line. Luckily not many businesses are using booking calendars right now. Only 25% of health businesses use it, and just 13% of the gym industry have adopted this software.
But people indeed prefer the easy way. That's why they love to book online. In fact, it seems that by 2023, 700 million people will be booking hotel rooms online. And that's just one industry. 
Also, there are 42% of fast food ordered online. Although it costs extra money, people still order online.  
So what are you waiting for? Scroll down and learn how to add a calendar booking system to your website. 
Which calendar booking system should you add to your website?
This part may sound unnecessary, but this is the most important one.
All appointment booking apps have different methods of integration. And here, we are going to guide you about adding the MIYN booking calendar to your site. That's why it's your right to know why MIYN is best for your business. 
MIYN is a multipurpose booking software. It can generate leads, provide live chat, and provide converting landing pages. Thus it is a tool that can help you generate more profit. 
If you don't know, let me tell you that live chat can bring a massive change to your sales. It is seen that live chat can increase sales by up to 20%. 
Get Started free
Furthermore, MIYN will also help you with customer relationship management(CRM). 
Here is a complete list of MIYN's features:
Add unlimited staff 

Add unlimited service categories 

Use website popups 

Send instant messages 

Add directions of your business 

Share documents (A helpful feature for doctors, lawyers, and tutors)

Live chat 

Get automatic reminders 

Use detailed reports 

Manage subscriptions 

24/7 support 
The MIYN's interface is so simple that you will not need any assistance. But if you still face any problem, the MIYN's team is always here to help. 
Moreover, before paying anything, you can try the free one-month trial. Don't worry. You don't have to give credit card details to log in. So, create your account and start following the given steps to add a booking calendar to your website. 
The best method to add a calendar booking system to your website 
Well, it is not rocket science to add a booking calendar widget on your site. Just a few clicks, and you will be good to go. So, if you have a WordPress website, follow one of the given procedures to add MIYN's widget to your site. 
Use plugin to add MIYN to your site 
If you want to add MIYN's plugin to your website, follow the given steps. 
Step1: Install the plugin 
Go to the WordPress dashboard. 

Click on Plugins >> Add new 

Type miyn app in the search bar 

Click install on the first option 
Reload the page. Now you can see MIYN App on the sidebar of the WordPress dashboard. 
Step2: Add the API key to create the connection 
Click on MIYN App from the sidebar. You will see the following screen. 

You will see an option of API key. 

Copy the key and paste it inside the bar below the screen. 
Congratulations, you have successfully added MIYN to your site. Visit your site to see the result. 
Get Started free
If you face any trouble while adding MIYN, you can contact us anytime. Or you can also generate a support ticket to get in touch with the support team. 
Adding MIYN's booking widget without plugin 
If you feel uncomfortable with the plugin method, you can use the alternate method. In this method, you will have to create your MIYN account. So, if you don't have an account yet, click on the "Get Started" button above to create an account now. 
Once your account is created, follow the given steps for WordPress website:
Step 1: Click on the website widget from the left navigation bar.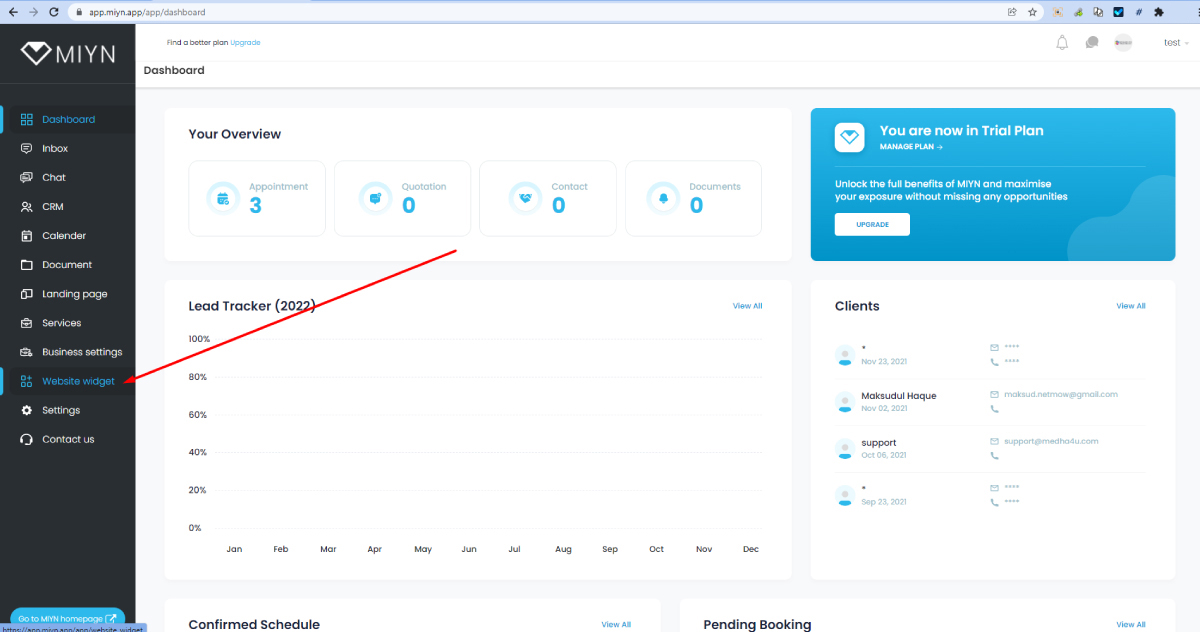 Step 2: You will see some buttons on top of the screen. From there, click on Add to the website.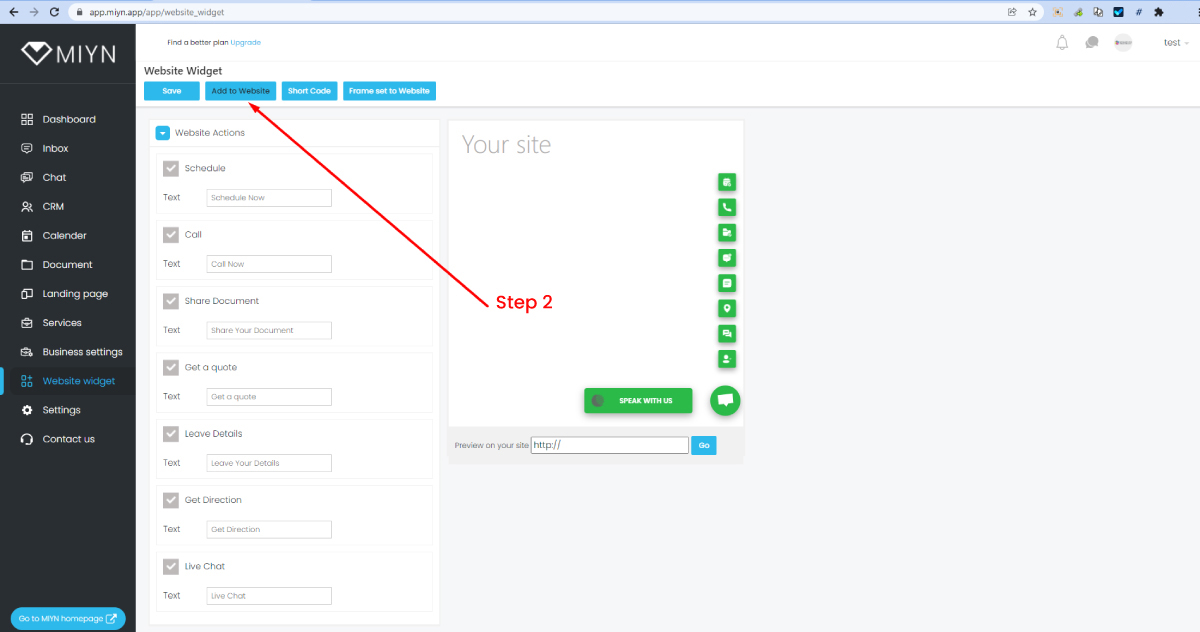 Step 3: Now, you can see a code on your screen. Copy the code.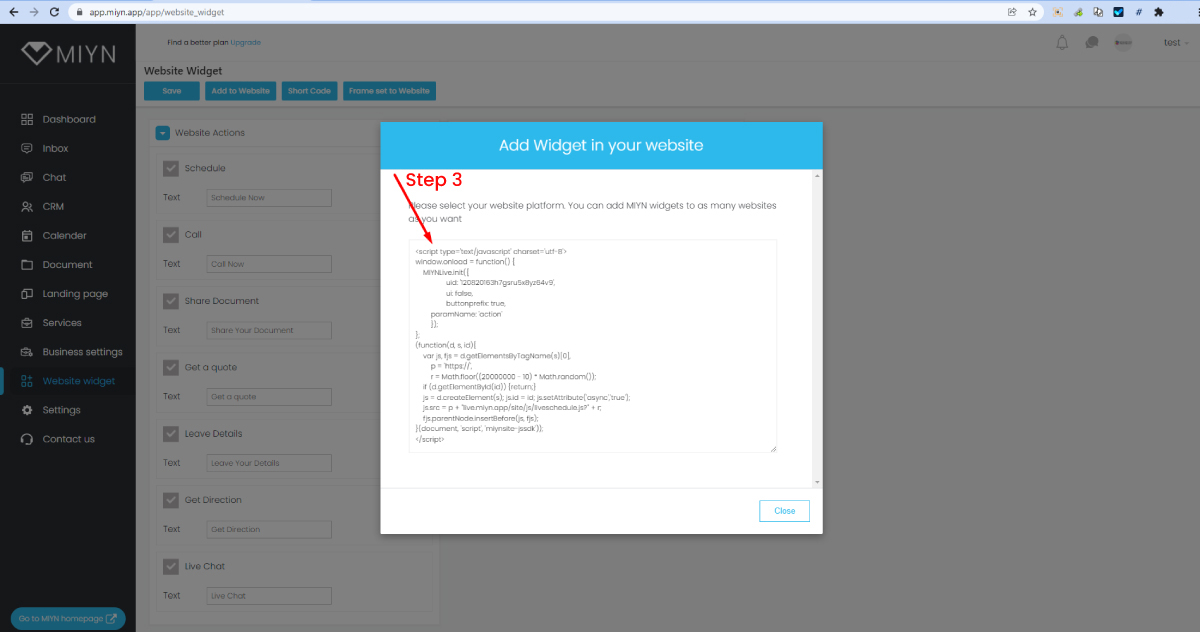 Step 4: Open your WordPress dashboard.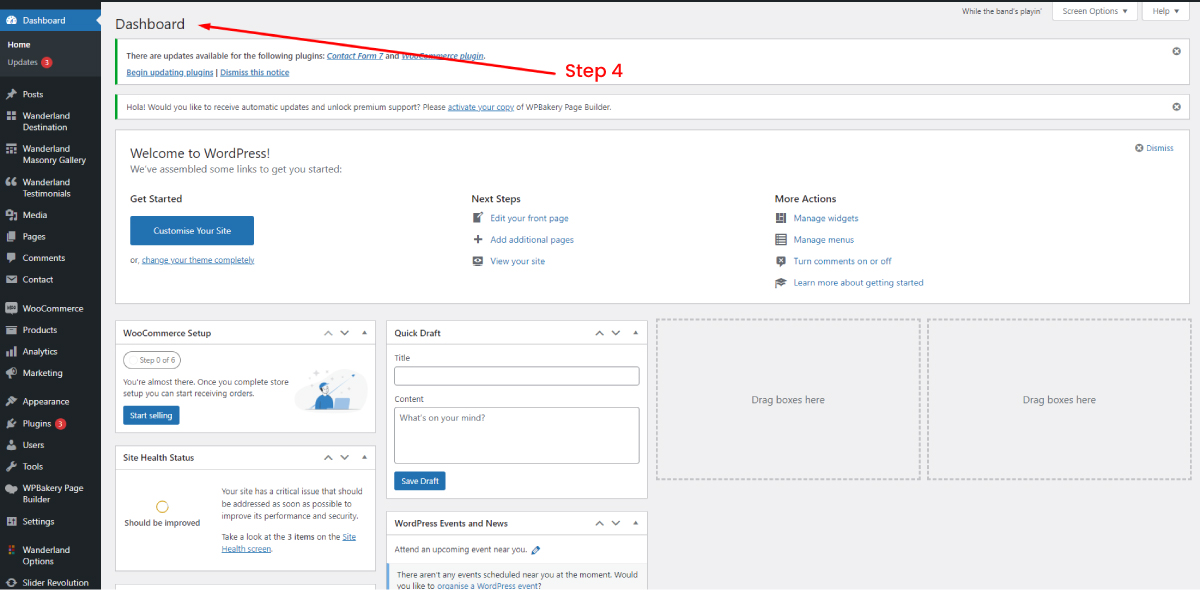 Step 5: Now go to Appearance >> customize.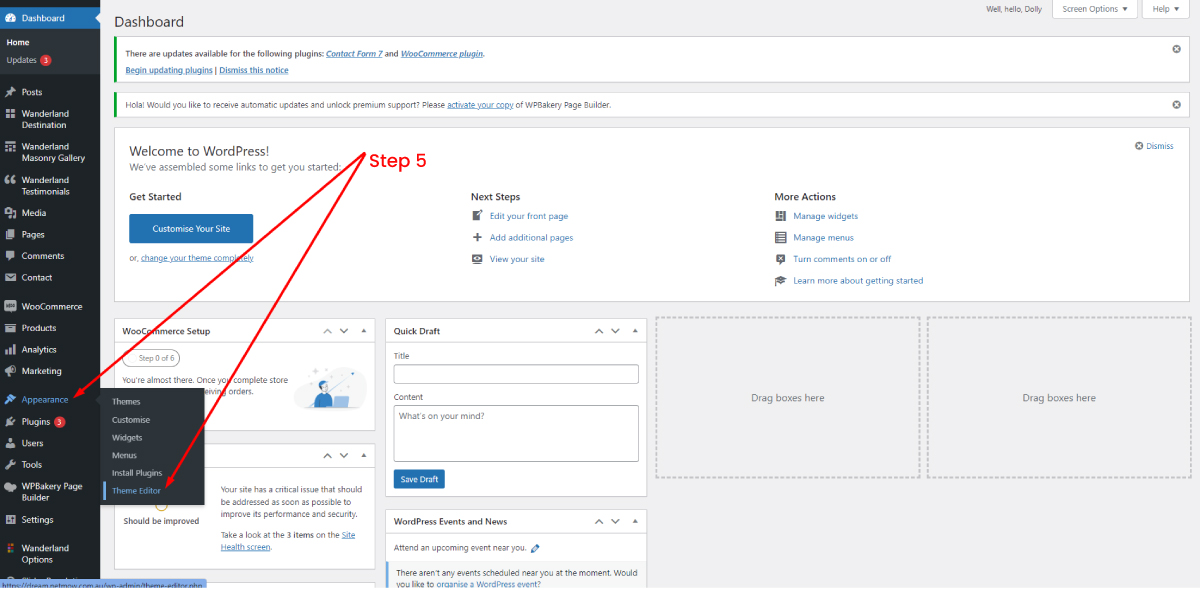 Step 6: Now open header.php from Theme Files right sidebar.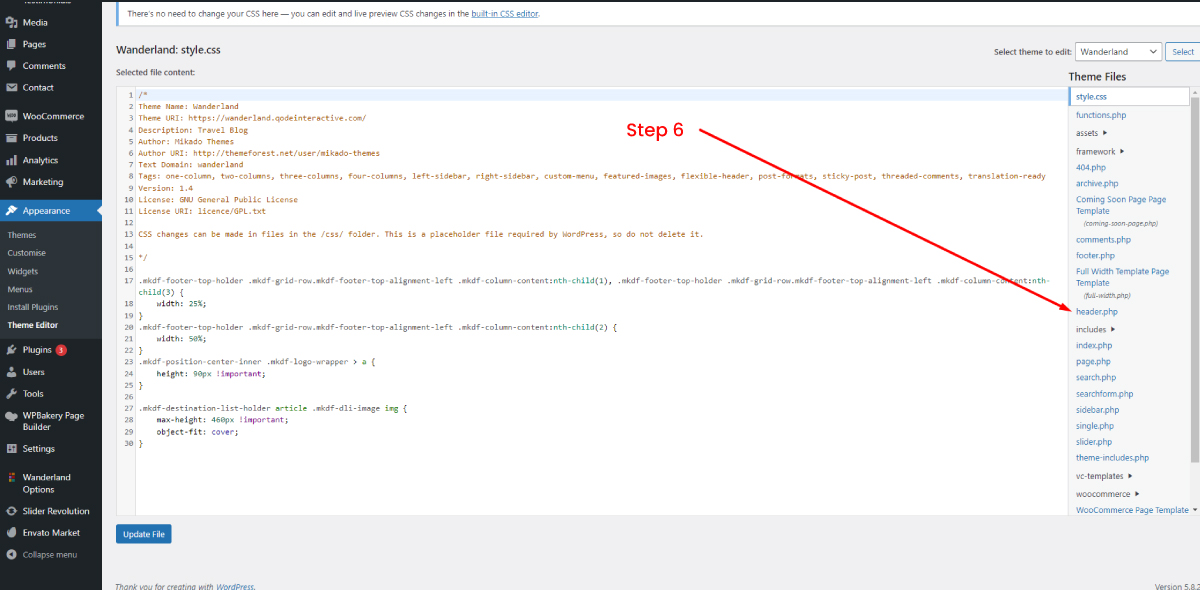 Step 7: Now paste the code carefully in the "<head> </head>" tag.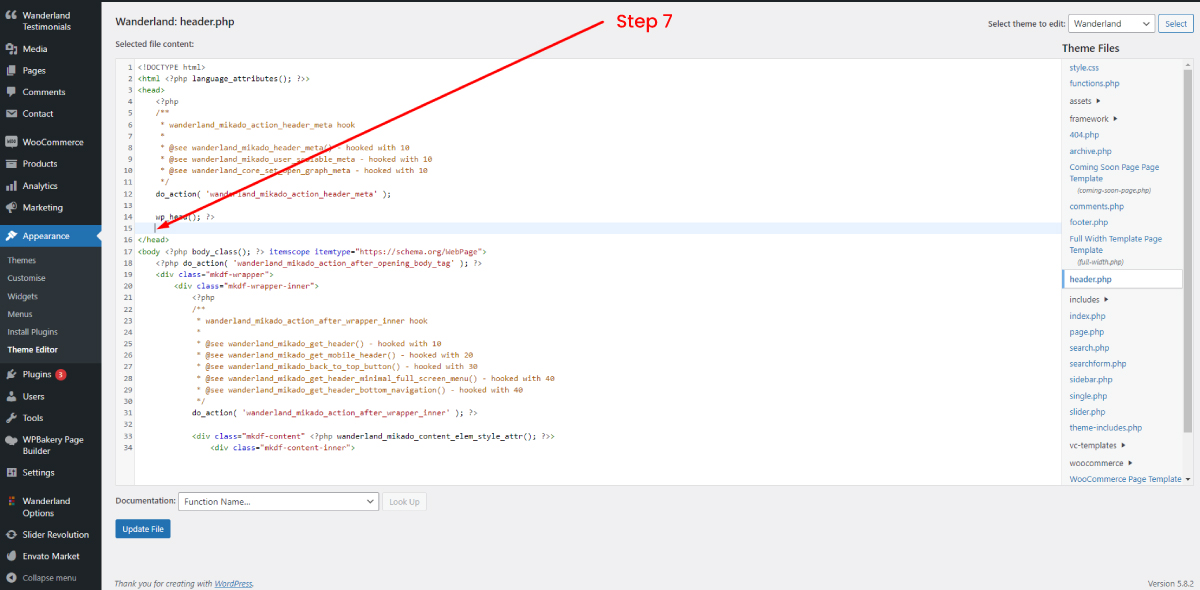 Note: The head tag may already have some code in it. But you have to make sure that this code is not pasted outside the head tag. 
How can you use landing pages for booking more appointments?
A landing page is the game-changing page of your website. It can increase your sales by 86%. So, you should create the best landing page for your business. 
But you don't have time to reinvent the wheel, do you? That's why MIYN is here for you. It will provide you with the best landing pages that can book more meetings for you. Moreover, you will not be limited to default landing pages. MIYN allows you to customize the landing to your needs. 
Now, it is your responsibility to utilize these options in the best way. 
Conclusion 
In this article, we introduced two methods for adding a booking calendar to your website. And now you know that it is easy to schedule a widget for a website, and anyone can do that. You do not need any technical skills to deal with scheduling software. 
Frequently asked questions
If I don't have a WordPress website, can I still use MIYN for appointment booking? 
Yes, you can add MIYN to your custom website. All you need to do is copy the given code and paste it into the head tag on your index page. 
But you should not attempt this unless you have a good understanding of coding. Otherwise, you can disturb your website. 
How can I create a booking calendar for my website? 
It is not a good idea to reinvent the wheel. You can easily find many reliable booking calendars like MIYN. But if you still want to build a booking calendar, you will need to learn to code. Or you can hire a developer to complete the task for you.