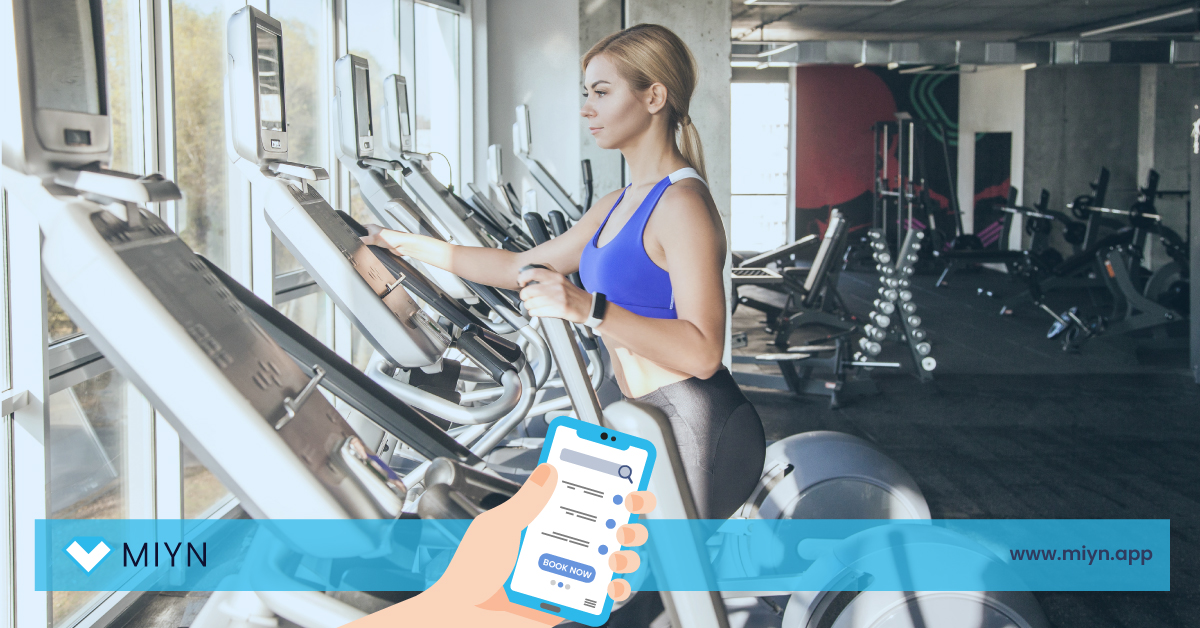 Now It Is The Right Time To Boost Your Gym Business With A Gym Booking System
The attack of COVID changed the face of the world. Now, more and more businesses are using technology to grow revenue. And you can also used gym booking system do the same with your fitness business.
If you are still using the traditional methods then managing business and meetings will eat up your time. So, you will not have your personal time to workout. And believe me if you don't workout it will affect your business growth. 
For instance, when you tell someone you are into the fitness business they will notice your physique. If your body does not look fit you have already given a wrong impression. 
Now, you need something that can carry some responsibilities for you. The best option that can bring rapid growth in your business is an appointment booking app. By using such an app you will not have to worry about booking and cancelling meetings. Similarly you will not have to worry about sending reminders. 
Let's discuss more about this useful software. 
Do you really need a fitness booking app? 
Nearly half of the world's population is using the internet. And most of the businesses are presenting their first face on the internet. It is true that they are earning more revenue through their websites and saving money and human effort simultaneously. 
If you already have a website then you can easily save more manpower by integrating an appointment booking app. It will handle all the booking and cancellation of meetings for you.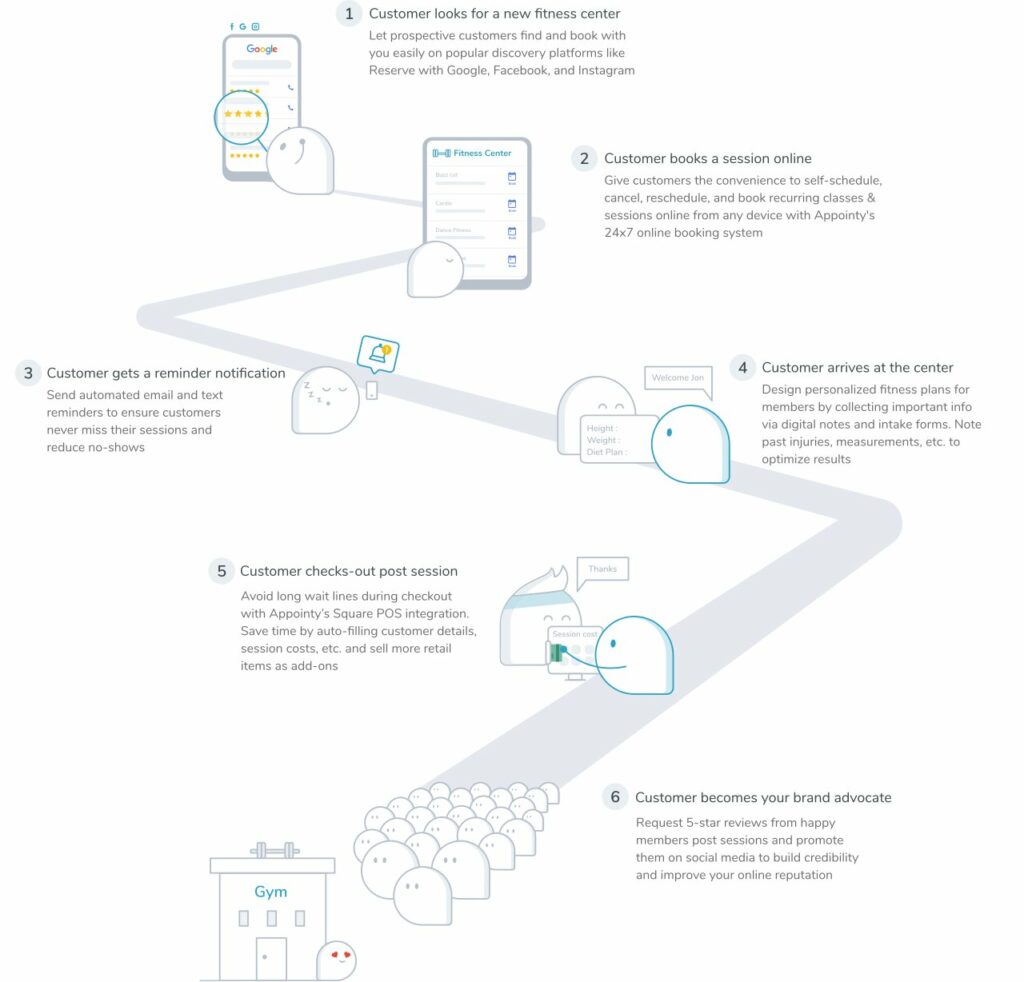 You cannot handle all the tasks manually. You will have to hire an assistant to handle the workload, else you can get mentally. But hiring an assistant will increase your cost. On the other hand, booking software is inexpensive and more effective. It can handle tasks like appointment booking, payments, add workout packages, and membership. Some of the other tools also offer marketing and CRM. 
If you're someone planning to step into the fitness business or already have one offline, then it is time to step into the internet realm.
Moreover, people becoming more fitness conscious and pandemic together have upsurge the demand of fitness apps. People can't visit gyms and are booking their in-person sessions online using fitness apps or via a call if their gym is still offline.
If you're thinking about starting a fitness business or currently have one that isn't online, now is the time to do it.
Furthermore, as individuals become more health-conscious, the demand for fitness applications has increased. People who can't go to the gym are arranging in-person sessions online through scheduling apps or over the phone if their gym is still closed.
In comparison to an online fitness app, offline fitness studios are having difficulty streamlining their operations and retaining clients because their customers must complete 5-7 more steps to obtain a single session.
Get Started free
As a result, there has never been a better moment to make your fitness programmer available to your clients on the internet.
Benefits of having online schedule maker 
There are countless benefits of having a gym booking system. Let's have a look at the most visible of them:
Available 24/7 
The best benefit of schedule makers is that it does not let you miss any of the bookings. Your gym is always open, since your booking app is always live on the internet. Thus your customers can book at any time of the day. They will not have to worry about your working hours.  
Customers are significantly more likely to make a reservation in the evening, rather than during the day, because they will have more time to search the internet at their leisure. If you provide your consumers with an online gym booking system that is constantly available, you will have the best opportunity of considerably boosting your reservations.
Reduce workload 
When it comes to running a business, you want to maximize the value of your assets, particularly your employees. The online reservation system is a fantastic way to reduce burden so that more time can be spent on more critical customer service or sales concerns. 
The reality is that if you are not already using an online booking system, you may still be manually processing all of your reservations. It just costs time, energy, and money that may be better spent elsewhere. 
Access data in a structured form 
You will have all of your former customers' data if you utilize a good online booking system that covers walk-in, email, and phone bookings in addition to online reservations. This list is your most significant marketing asset, since it allows you to segment your consumers and create your whole communication plan around it. You can target the correct folks with your specific offer.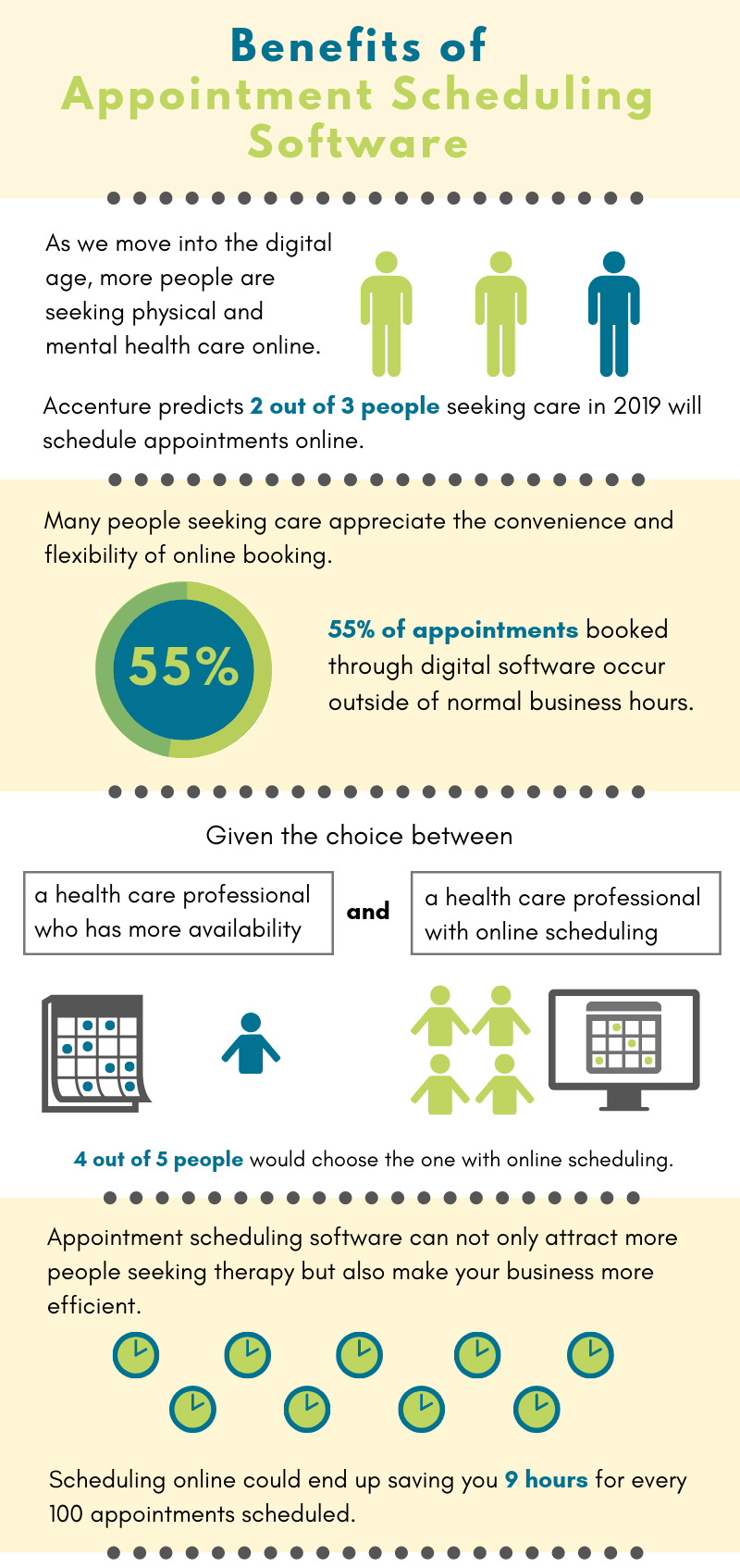 Sell more 
Always try to make more from someone who is ready to buy. Do not spoil your chances even when you are closed or your sales team is sleeping. So, when someone is buying one fitness session or one month training program try to add something extra. 
Like, membership offers or discount offers and many more. You can also add options like group classes, spa, nutrition and massage treatments. In short, use the coming opportunity wisely.   
Improve revenue 
Investing in an online booking system will pay off handsomely, as it will not only help you increase the amount of appointments you take, but it will also allow you to earn a bigger profit on those appointments. 
Get Started free
The beauty of online booking software is that they can be used to upsell your products or services to clients by selling add-ons and extras. If your employee was accepting a booking over the phone at a busy moment, they could forget to disclose these details. Customers are also more likely to upgrade their reservations and purchase add-ons if they can do it online because they will have more time to consider their options. 
Improved security 
One benefit of appointment schedulers that is sometimes neglected is that they may make your appointment system more secure than traditional methods. Administrators used to keep track of appointments in a centralized database that wasn't sufficiently safeguarded and exposed data to considerable danger before the emergence of online appointment systems. 
A hacker with access to a company's network might simply obtain a large list of customer names, phone numbers, and addresses.
Appointment scheduling solutions are fundamentally more secure than self-managed systems since they leverage cloud storage. Using a virtual private network (VPN) wherever you go online is an extra security step. Most are compatible with Windows by default, however you may need to look at comparison reviews to see which is ideal for your system. 
In the end, a VPN encrypts your data and hides your IP address, making it more difficult for the bad guys to track you down.
Features of an appointment booking app 
Calendar and booking
There's nothing more frustrating than transferring your whole year's worth of appointments and clients just to discover that you can't add your next day off.
Make sure you choose an online scheduling software that is simple and easy to use, with a flexible calendar. Is it possible to create new appointments and amend old ones in one place? Can you easily reschedule, establish recurring appointments, cancel, examine customer information, and flag no-shows?
Because you'll be utilizing the Dashboard on a regular basis, it should be straightforward to use. Before making any commitments,
examine whether the programmer has a trial period so you can work out all the issues without investing any money. 
Reminders 
No-shows cost time and money, so using reminders may save you a lot of money. However, because you don't have time to call or email all of your appointments to confirm them, your scheduling software should handle it for you. It's not worth your money if a scheduling tool doesn't include automated email and text reminders.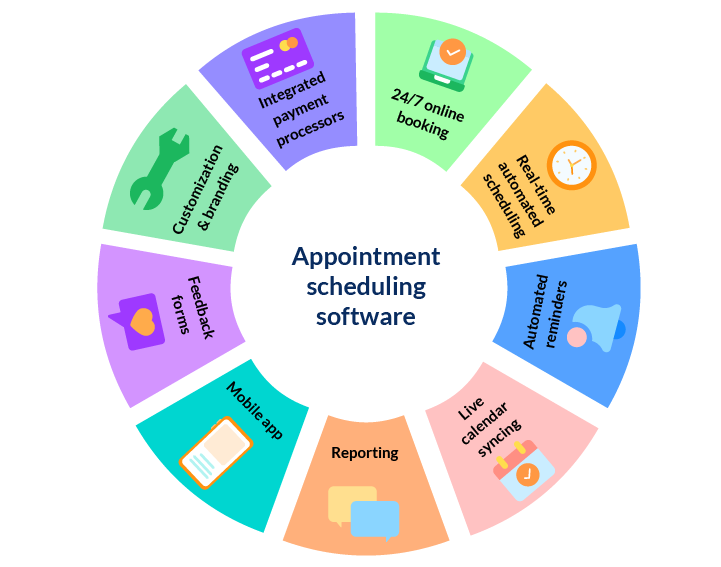 Cancellation and reschedule 
Cancelling and rescheduling is completely in the hands of customers. So, you don't have to worry about that. A customer can open the portal anytime and book a meeting. And if there is a problem with them then they can cancel the meeting as well. 
Most importantly it will not affect your revenue. Because once a meeting is cancelled that slot will be available for coming customers. Thus, do not worry about the cancellations and focus on the main product. 
Payment gateway
Online payments, including deposits and pay-up-front alternatives, make paying as simple as booking. Clients should be able to pay directly through the app, and scheduling software should be able to interact with payment services such as Square or Stripe. 
Get Started free
Most of the gym booking system use built-in payment gateways. But they do charge an extra fee for each transaction. 
Include marketing tools 
A simple gym booking system can make the scheduling process easier. But it will not be able to find new customers for you. So, it is limited to only one task. 
In order to grow faster you should use a scheduling app which includes marketing tools. This app will help you to schedule sessions and find more customers simultaneously. 
The most basic marketing feature that is used by most of the scheduling and lead generation software is email marketing. 
Email marketing is essential for cultivating client connections. Through emails you can announce special bargains to thank-you notes for returning customers to event promotion. Scheduling software should provide easy-to-use custom email templates to help you improve your email game, as well as stats so you can see what's bringing in the cash.
Reports 
Reports are generated by several scheduling software packages. You may utilize such reports to keep track of your company's progress. For improved planning and service supply you can use metrics such as customer demographics, appointment details, retention rates, no-shows, and cancellations. 
There are other options that interact with other business software, such as customer relationship management (CRM) systems. Receiving timely reports with pertinent facts can assist your company in making more money and become more effective.
Good customer service 
Because your scheduling software will become the lifeblood of your company, it's important that the customer care staff be on point. Inquire about a service's customer support alternatives, such as whether they are available 24 hours a day, 7 days a week. Do they use the phone or do all of their business via email? Is there a live chat option?
You never want to be stranded in a situation where you can't receive aid.
Why MIYN is the best option as an appointment booking app?
MIYN is one of the best schedule making apps. You can easily use it and integrate it in your website. Here you have all the rights to schedule your availability and off days. But MIYN will be working whether you are open or not. Thus, MIYN can boost your revenue in no time. 
Moreover it is super easy to use. There is no learning curve, as its interface is extremely easy to understand. Still, if you get stuck their support system is always there to help you out. You can simply drop an email and they will solve your problem asap. 
Furthermore, the starting price of this gym booking system is free. Because it offers a complete free trial for a month. And guess what? Unlike any other free appointment booking software You don't have to give any of your critical details for this free trial. Thus we can say that it is ideal for free online appointment scheduling.  
This free version will include all the features. You will not regret this free trial. 
How will MIYN help you in lead generation?
Once you start using MIYN you will not have to look for lead generation companies. Why? Because MIYN is not just a free schedule maker it is a complete business tool. It includes all the features that can boost your gym business. Whether it is about the online booking system for classes or lead generation, MIYN can handle it all. 
For lead generation MIYN will provide perfect landing pages and it will also attract an audience through email marketing. Once these tools are used properly you will see a boost in your revenue. 
Features of MIYN 
Booking 

Website popups 

Instant messages 

Appointment Calendar

Click to call function 

Document sharing 

Real-time chat 

Client portal 

Automated reminders 

Detailed analytics 

Subscription management 

Active Support 
Benefits of using MIYN 
Making bookings and changing dates for services 

Creating different timetables for different services

Real-time insights and data about bookings

Creating additional user access levels according to the administrative needs 

Clients and providers' staff members are sent SMS, emails, and calendar-based notifications.

Create booking pages with real-time service and personnel availability

MIYN will provide detailed analytics and stats about cancellations, reservations, workload, and revenue 
Pricing 
Its initial offer is completely free of cost. You can get complete access to all of the perks of this offer. With this package, you'll also get email assistance, making MIYN an ideal free appointment booking software. 
If you wish to utilize more features, you may upgrade to the basic or advanced version. Furthermore, the basic edition's monthly subscription is only $29, while the advanced edition is $49. 
Conclusion 
With frequent reminders and an easy-to-use interface, MIYN will assist your business to grow. So, instead of becoming annoyed with the tedious effort of phone calls and emails, sign up with MIYN and see how much money you can make. 
If you are still confused about whether to choose MIYN or not, then try its free version first. The free month trial will help you to know the worth of MIYN. Once you find it helpful then you can move to its paid versions. 
If you have any questions feel free to chat with us. We are always here to assist you. 
Happy scheduling  
Frequently asked questions 
Which is the best class booking system for the gym?
You can find a huge list of the best booking apps for fitness classes. All of them have some benefits and some disadvantages. But MIYN stands out in the huge crowd. Because it is a complete package of all the necessary business tools. It includes CRM, lead generation, landing pages, and appointment booking. 
Which online class booking system is free?
There are a number of gym booking system which claim to be free. But they will charge you in one way or another. For instance, they can add a strong fee on making transactions or they will provide only basic features for free. But MIYN provides a one month free trial period that includes all of the paid features. 
What is the benefit of appointment booking software?
If you're wary of manually composing emails, you'll require appointment scheduling software. This program will make it simple for you to manage your meetings. They will also send you periodic reminders. As a result, you will not miss any of your sessions, and your firm will continue to thrive. 
Is MIYN secure? 
An encrypted protocol is used to communicate between your smartphone (or tablet) and your AUSL server. Thus, the data would be unintelligible even if someone got in the path of the CUP (listening on the communication line).